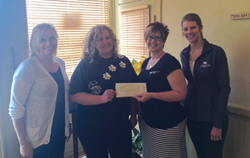 We are all animal lovers at AlignLife," Clinic Director Mary Heal said. "Most of us own pets who have come from animal shelters and centers. So this cause is near and dear to our hearts
Winamac, IN (PRWEB) May 29, 2015
AlignLife Chiropractic of Winamac asked local businesses and individuals to bring bleach, dish soap, cat/dog toys, laundry soap, or a monetary donation to an event for the Pulaski County Animal Center . AlignLife matched the donations brought in and also gave away $50 in a random drawing for people who brought donations for the Animal Center.
"We are all animal lovers at AlignLife," Clinic Director Mary Heal said. "Most of us own pets who have come from animal shelters and centers. So this cause is near and dear to our hearts."
"We had a lot of fun posting pictures of the animals that need homes on our Health Secrets TV in the office," Office Manager Tricia Doughty said. "And it was also a farewell party for Dr. Greg (Postier) who is moving to his home state of Kansas to open his own clinic."
The event, themed after the Kansas-famous Wizard of Oz movie, "There's no place like home," raised various goods for the Center as well as more than $100 in monetary donations. AlignLife Staff encourages people not to wait for an event to donate, the Animal Shelter is in need year around and a simple chew toy can brighten an abandoned animal's life. The Pulaski County Animal Shelter is located at 13 East Indian Hills Road in Winamac, In and can be reached at 574-946-0265.
"The greatness of a nation and its moral progress can be judged by the way its animals are treated." Gandhi