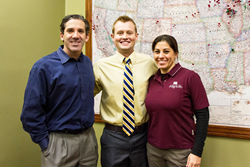 I am honored to have been nominated for this award, this last year has been amazing with the number of people we have been able to help here at AlignLife
Springfield, Il (PRWEB) May 29, 2015
On May 11th, 2015 Dr. Bryne Willey was casually checking his email and completing some tasks for the day when he opened an email that said "Congratulations!" A little skeptical and worried about spam the doctor opened it and was surprised to find out that a friend or colleague had nominated him and the AlignLife Springfield clinic for a Small Business Award. "I am honored to have been nominated for this award, this last year has been amazing with the number of people we have been able to help here at AlignLife," said Dr. Bryne.
An independent panel of judges will be choosing six recipients for the award and presenting them at a luncheon in June with more than 400 local business leaders in attendance. Companies are evaluated on their management expertise and the degree of the companies results.
After just over a year in operation in the Springfield, Illinois area Dr. Bryne and his staff are overwhelmed with appreciation and gratitude for this nomination.
Dr. Bryne Willey DC, MS was born and raised in Springfield, Illinois. During early childhood, Dr. Willey's father suffered a tragic accident in which his back was broken in multiple areas as a result of an incident at work. His father was given no option other than to be placed in a body cast. There was no plan to regain the quality of life he previously had; no hope, just acceptance. Mr. Willey could no longer play catch and chase fly-balls with his young son like he used to. Throughout Dr. Willey's years as a competitive baseball player, both high school and collegiate, he was searching for that special something that would make a difference in the lives of others. As he was researching his options he decided to shadow a Doctor of Chiropractic. He was very impressed with the variety of conditions and ailments being treated, the smiles on the patients' faces as they entered the office, and the warm feeling they expressed when they left. He was also consumed with the feeling of being able to help people from all walks of life with many different ailments, including the one in which his father suffered from.
During Dr. Willey's studies at Logan College of Chiropractic he was trained in several chiropractic techniques as well as becoming certified in acupuncture. Along with his Doctorate of Chiropractic degree, he successfully earned his Master's in Science degree in Sports Science and Rehabilitation with distinction, as well earning the Red Badge Award for Excellence in Clinical Application of Rehabilitation for his work at the BIOFREEZE Sports and Rehabilitation Center. With these three qualifications, Dr. Willey is able to not only diagnose any number of conditions, but also successfully treat the problem from many different angles with the goal of helping the patient obtain optimal health.
Dr. Willey and his wife, Kellie, continue to be active in their church and service in their community. Kellie, a former collegiate soccer player, is currently a third grade teacher at Chatham Elementary and a high school soccer coach for the Chatham Women's team. They also just welcomed their first child into their family, a daughter named Ava Lynn. They enjoy leading active lives and spending weekends with their family and friends.