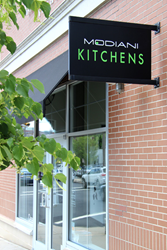 Special guest Chef Ralph Perrotti and will be on hand to present fresh pastas and a variety of sauces
Englewood, NJ (PRWEB) June 02, 2015
Modiani Kitchens, the New Jersey based kitchen cabinet and kitchen design company will host an event presented by Alliance Against Homelessness in their Englewood, NJ kitchen showroom on June 11, 2015, from six in the evening until nine at night.
The event is titled Cooking for a Cause. Special guest Chef Ralph Perrotti will be on hand to present fresh pastas and a variety of sauces. Wine tastings selected to complement Chef Perrotti's culinary creations will be provided by Wine Country of Oradell, NJ. A summer inspired fruit tart will also be served.
The event will also feature a silent auction and a wine bottle grab, where for twenty dollars participants will received a wrapped mystery bottle of wine, which may be a table wine or may be an exclusive more expensive bottle.
All proceeds from the event will benefit Alliance Against Homelessness, or AAH. AAH of Bergen County was founded in 1989 with a mission of ending homelessness for individuals with disabilities by providing affordable housing and supportive services. Today, AAH owns and operates five licensed group homes in Bogota, Hillsdale, Fair Lawn, Hackensack, and Teaneck.
Modiani Kitchens is a kitchen cabinet and kitchen design company based in Englewood, NJ. They specialize in European design as well as traditional design. Their showroom, where the Cooking for a Cause event will be held, is located in the heart of Englewood.
For more information regarding this event please visit Modiani Kitchen's events section.