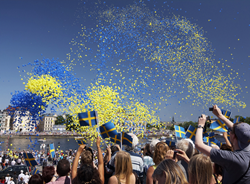 Atlanta, Georgia (PRWEB) May 29, 2015
National Day of Sweden, June 6, is a day of celebration for Swedish nationals around the world. The celebration held in Atlanta is organized with the Consulate of Sweden in Atlanta and in cooperation with SWEA (Swedish Women's Educational Association International, Inc.). It is one of largest events of the year for the Swedish-American community in Georgia.
PartnerTech is honored to be a co-sponsor of this celebration of Swedish heritage and the long relationship between Sweden and Georgia. PartnerTech US has been based in the Atlanta area for 15 years and Gary Bruce, President and Managing Director, serves on the Board of Directors for SACC-GA and in the role of Chairman. Bruce has long been an advocate for strong business relationships between Sweden and Georgia. PartnerTech hosted the SACC GA Speaker Series with Jacob Wallenberg, CEO Investor AB and Tomas Puusepp, CEO Elekta AB. And PartnerTech was host to Swedish Ambassador Jonas Hafstrom, introducing him to current Georgia Governor Deal (R) and Atlanta Mayor Reed (D).
Celebrating National Day in Piedmont Park at Magnolia Hall is the perfect opportunity to experience a bit of Swedish heritage with signature food and refreshments and musical entertainment. Special guest this year will be The Honorable Göran Lithell, Deputy Chief of Mission at the Embassy of Sweden in Washington.
Prior to the event in Atlanta, Mr. Lithell will be visiting the Port of Savannah with members of the Savannah Economic Development Authority (SEDA) and the World Trade Center Savannah.
Full details of the celebration and ticket information can be found at http://www.sacc-georgia.org/.
About PartnerTech
PartnerTech is a global industrial partner offering customized solutions throughout the product lifecycle, from product development to manufacturing and aftermarket services, in a number of market areas such as MedTech and Oil & Gas. With approximately 1,400 employees at its plants in Sweden, Norway, Finland, Poland, the UK, the United States and China, PartnerTech reports annual sales of more than $335MM. PartnerTech AB, the parent company, has its head office in Malmö, Sweden, and is listed on the Nasdaq OMX Stockholm Exchange.
PartnerTech Inc. is a wholly owned subsidiary of PartnerTech AB of Sweden and offers expertise in systems integration and postponement manufacturing, making them an obvious choice for companies seeking to lower costs through better forecasting, supply chain alternatives, and efficiencies in distribution and management of capital investments. Services are tailored to fit the needs of each client, with regard to scaling production, shipping expertise, and sourcing methods.
About SACC Georgia
The Swedish-American Chamber of Commerce in Georgia, also known as SACC-Georgia, is a non-profit membership based organization.
The primary objective of SACC-Georgia is to encourage and promote an exchange of business, trade, investment, technology and culture between Sweden and the state of Georgia. SACC-Georgia is one of 19 regional chambers across the United States, cooperating under the umbrella of SACC USA based in Washington, D.C.
The chambers form a nationwide Swedish-American business network with over 2500 members. Together the chambers have served as a forum for Swedish and American business people since the organization was founded in 1906.