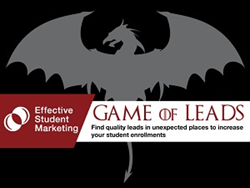 There is a new traditional media
Andover, MA (PRWEB) May 28, 2015
Effective Student Marketing will attend the annual Association of Private Sector Colleges and Universities (APSCU) convention and exposition in Denver from June 2-4. The digital marketing company, which serves higher education clients across the country, will be at booth #506 at the APSCU Campus exhibition hall of The Colorado Convention Center.
As an allied member of APSCU for nearly a decade, Effective Student Marketing attends the annual event to share digital marketing strategies with higher education professionals. This year, the agency will be conducting a marketing survey to gather information and insight on marketing trends and attitudes within the private school sector. They will also reveal their brand new E-Book: "Game of Leads: Find Quality Leads in Unexpected Places to Increase your Student Enrollments." Attendees who visit the Effective Student Marketing booth can receive their free printed copy or choose to download the E-Book.
According to company president Andy Kelley, the tips offered in the E-Book include actionable steps that schools can immediately implement to find better quality leads that will convert to enrollments. Kelley says the book backs up its recommendations with actual case studies that show how digital marketing strategies work in practice.
"If schools intend to remain competitive, they need to realize that there is a new traditional media," said Kelley. "Digital media is the new tradition. The sooner school leaders embrace this very simple notion, the sooner they will be able to use the technologies available through digital media to find, qualify and enroll more prospects."
Kelley says that he and his team will be available throughout the convention to answer questions about the E-Book, their services and the strategies they have found that work best with their own clients. He also plans to attend many of the panel discussions and presentations that will occur throughout the conference. The 2015 convention, entitled "Outcomes 2025" is themed around five tracks targeted to education professionals: lead, inform, engage, prepare, and innovate. There will be a wide variety of discussions and speakers, including former U.S. Representative and Speaker of the House Newt Gingrich.
The APSCU event runs from June 2nd to 4th and organizers expect more than 1,000 participants. Among the planned activities are some 50 educational sessions and a variety of exhibitions. APSCU's mission is to be the premier source of crucial information and public policy recommendations that promote access to career education and the importance of workforce development.
About Effective Student Marketing:
Effective Student Marketing is a digital marketing agency and a Google Partner that embraces transparency and results-oriented marketing. It integrates marketing strategies that use social media marketing, paid search advertising, and content creation to help institutions of higher education engage with students, graduates and future students to achieve their student enrollment and retention goals. Andy Kelley founded the company in 2004 and he and his team have a "we'll figure it out" philosophy that combines creativity and technology to stay on top of the latest tactics and trends in the digital marketing industry for higher education. More information about their services is available at: http://effectivestudentmarketing.com/