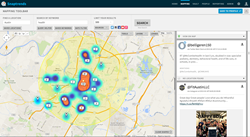 Data has become the currency and lifeblood of this digital age, and social media is a gold mine of information that is applicable to an extremely wide variety of uses.
Austin, Texas (PRWEB) May 29, 2015
Snaptrends, the most powerful location-based social media intelligence platform, is proud to announce a partnership with Esri to integrate the power of both platforms into a single package and give clients even more flexibility in compiling and managing social media insights. The integration of Esri and Snaptrends will allow Esri ArcGIS Online users to have access to interactive Esri maps from within the framework of the Snaptrends platform.
The partnership between Esri and Snaptrends provides a powerful means of using and displaying pertinent location-based data gathered from social media sites. Snaptrends allows its clients to search through social media through a variety of means that include hashtags, keywords, user handles, and geographic locations. Snaptrends, by itself, is already a powerful tool with a vast application range that includes brand monitoring, corporate security, emergency response, and much more.
Snaptrends data from social media sites can now be incorporated into interactive Esri maps that can be accessed by ArcGIS Online users. Esri is the world's foremost mapping platform that allows its users to create and share interactive web maps on a variety of devices, such as desktops, browsers, smartphones, and tablets. It is the market leader in Geographic Information System (GIS) technology and is used by more than 300,000 organizations worldwide, including national governments and Fortune 500 companies.
The combination of the world's best social media intelligence platform and the best mapping platform allows users to harness the information gained from social media and integrate that information into interactive, location-based maps to be shared with co-workers, corporations, government agencies, and the public.
The Global Law Enforcement Industry Manager for Esri, John Beck, states, "As the world leader in geospatial technology, Esri is constantly searching for cutting-edge location companies to partner with, and we have found it in Snaptrends. Snaptrends' innovative approach to social media intelligence combined with Esri's location analytics capabilities is a natural fit, and the two companies are working together to ensure that our customers maximize their ability to analyze and respond to social intelligence in a meaningful way. As we move forward with the Esri-Snaptrends partnership, we are looking forward to the integration possibilities of the two platforms and new ways that we can deliver insightful intelligence and analytic capabilities to our user community."
Jeff Croson, Senior Vice President of Sales and Marketing for Snaptrends, says, "Data has become the currency and lifeblood of this digital age, and social media is a gold mine of information that is applicable to an extremely wide variety of uses. The partnership between Snaptrends and Esri is a perfect union that allows ArcGIS Online clients to manage data from our social media intelligence platform to create powerful, interactive maps that feature location-based, real-time intelligence as well as historical analysis. Data mined from social media and inputted into these interactive maps can include photos, videos, tweets, and so much more. Our users will now have a new and powerful means to manage and display the vital information that they have gathered. Esri and Snaptrends are both powerful platforms, but, when combined, form an incredible data solution that is second to none."
About Snaptrends
Snaptrends takes you inside the conversation, strips away the noise and illuminates the social media relevant to your business, organization or community. This information builds a clear view of social conversations when and where they unfold, the influencers driving those conversations, and why; ultimately giving you the ability to make more informed decisions and take more effective actions.
Founded in 2012, Snaptrends is a private company tucked in "Silicon Hills," the rolling hills surrounding Austin, Texas. At the intersection of two hot industries – cloud-technology and social media, Snaptrends is the leading provider of location-based social insights to organizations worldwide.
###
For Media Contact:
Leslie Stafford
NanoPlanet
Post Office Box 17107
Aspen, CO 81611
email: leslie(at)nanoplanet(dot)biz
direct line: 970-389-0932 or 970-429-4993
About Esri
Since 1969, Esri has been giving customers around the world the power to think and plan geographically. The market leader in GIS technology, Esri software is used in more than 300,000 organizations worldwide including each of the 200 largest cities in the United States, most national governments, more than two-thirds of Fortune 500 companies, and more than 7,000 colleges and universities. Esri applications, running on more than one million desktops and thousands of Web and enterprise servers, provide the backbone for the world's mapping and spatial analysis. Esri is the only vendor that provides complete technical solutions for desktop, mobile, server, and Internet platforms. Visit us at esri.com/news.