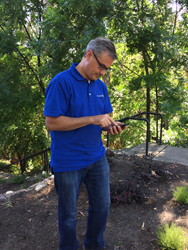 By using our mobile app, along with intelligent landscape changes, our teams have reduced our clients' water usage by millions of gallons.
San Ramon, CA (PRWEB) June 10, 2015
As drought conditions across California intensify, landscape maintenance companies are caught in the middle trying to keep client properties looking lush while helping their owners adhere to new restrictions imposed by local and regional water districts. In addition to updating landscapes to require less watering and training six staff members to be certified water managers, maintenance crews at Cleary Brothers, Inc. are saving water by using a mobile application the company recently rolled out to more dynamically adjust watering schedules and more quickly fix any problems with the irrigation systems.
"The app makes it easier for our crew members to record irrigation adjustments they've made, submit a work order that another crew member needs to fulfill, or provide important details (such as a photo of a broken sprinkler head) about a problem they noticed that needs to be addressed," points out Martin Cleary, the company's President. These details and other information about the property are stored centrally on the landscape maintenance company's server and available through the app to field crews. "We can respond more quickly to water-related problems and more proactively manage water consumption this way. When we used to document on paper, there was a longer lag time," said Cleary.
While the company has been working with their commercial office park clients, HOA boards, and property managers over the past few years to modify landscapes to require less water, management recognizes that this drought requires a multi-faceted effort. "The drought is a major concern for our clients. It's critical for us to address it on both long-term and short-term levels. Our custom mobile application is an important piece of the puzzle, allowing us to cut back on waste," Martin explained.
About Cleary Brothers, Inc. What started in 1979 when Martin and Mike Cleary got a weed wacker and started clearing fire breaks for the neighbors has now grown into a company of over 200. After that initial start, the boys found a passion for the landscape and eventually put themselves through U.C. Davis doing gardening on the weekends. In 1987, they hired their first full time crew. All the while, the boys have always remained dedicated gardeners. The Cleary view is that the landscape in an integrated system from the soil to the trees. As such, Cleary Bros. offers services to handle the various aspects of the landscape: construction, grounds care, plant health care, and tree care.