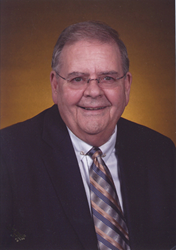 His [James Moss] expertise in developing educational programs will be valuable to the IARFC Association... Chairman, Steve Bailey
Middletown, OH (PRWEB) May 28, 2015
The IARFC has been promoting its mission for over 30 years. Most important to their stakeholders is an adherence to and promotion of ethical behavior and a focus on continuing professional education for members.
Their newest Board member, James Moss has been a participant in the financial industry for over 60 years. He began his career as a debit agent in 1954 in the city of Springfield, Ohio and within six months was promoted to manager. In 1961 he joined the Franklin Life Insurance until 1970 when he was appointed Executive Sales Director for American Banker Life Assurance Company for Indiana and Ohio. He was elected Vice President of the company in 1975 and moved to Miami, Florida where he became the director of the Mortgage Banking and Savings and Loan division and later created their Manpower Development division for both their Life and Causality companies.
In 1980 he was elected Vice President of Medical Life Insurance company (a subsidiary of Blue Shield of Ohio) to develop their first individual life sales operation. That next year, he joined Money Concepts International, first in Cleveland, Ohio and later in Indianapolis, Indiana where today he is Regional Director for the Indiana Region. The Region has always ranked in the top ten in the nation based on gross income.
"We certainly feel that Jim will be a great addition to our Board," commented Chairman Steve Bailey. "His expertise in developing educational programs will be valuable to the IARFC Association."
Moss joins the IARFC Board as they continue to work through the process of third party accreditation for the MRFC designation. The Board looks forward to presenting this accredited option to members and prospects who are looking for a way to stand out amongst their peers and to signify integrity and experience to the general public. "We will need everyone to promote this path we are taking," continues Bailey. "For a start, we encourage all members to take the exam that will be offered in the very near future."
For information on becoming a member of the IARFC or signing up for the MRFC exam, contact Amy Primeau at 800.532.9060 Ext 307 or visit http://www.iarfc.org.