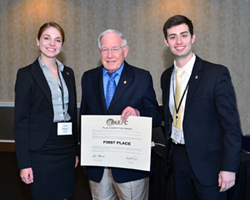 We see so much potential in these young participants - which is extremely important o the future of our industry... IARFC Chairman Steve Bailey
Middletown, OH (PRWEB) May 28, 2015
The three finalist teams had made their way to Charlotte Motor Speedway for a two day event. Participants attended the Business Owner Consulting workshop the first day and presented their plans on the following day of activities. Second place went to Kristin Cranford and Victoria Davis of Winthrop University, Rock Hill, SC – Faculty Advisor Dr. Philip Gibson and third place to Nicholas Zacchilli also of Bryant University and student of Mara Derderian.
This annual competition is open to undergraduate students from colleges and universities that have a financial services curriculum. The IARFC feels it gives the students an opportunity to take classroom learning into the realm of real world experience by crafting a financial plan from a "fictitious family narrative." Plans are sent to the IARFC where six semi-finalists are determined. From these semi-finalist, three finalists present their plans in person in front of industry professionals as they did in Charlotte, NC this year.
The IARFC appreciates the Corporate sponsors: Cetera Advisors, Royal Alliance, Virtual Assistant, Financial Planning Consultants and HB Financial for their support of the event. Members (listed on the IARFC website) also donated at various levels . "It is a way to give back to the industry," says Corporate Sponsor, Steve Bailey of HB Financial. "We see so much potential in these young participants – which is extremely important to the future of our industry. Promoting this event is of major importance."
The 2016 competition is ramping up and information will be posted on the IARFC website soon. If you would like information on sponsoring the 2016 National Financial Plan Competition or are a university professor wanting to give this opportunity to your students, contact Amy Primeau at 800.532.9060 Ext 307 or visit http://www.iarfc.org.