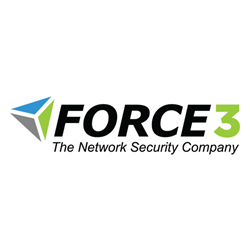 We look forward to working closely with Cisco to enhance our ability to support our shared customers.
Crofton, Md. (PRWEB) May 28, 2015
Force 3 , The Network Security Company, today announced that it has earned the designation of Cisco Authorized Technology Provider (ATP) – Cisco Application Centric Infrastructure (ACI) Partner.
The Application Centric Infrastructure (ACI) Authorized Technology Provider (ATP) Program enables partners to sell Cisco's ACI product line. ATP programs act as the first-to-market opportunity for partners with specific skills, practices, and capabilities. Because the technologies are new or require special experience, partners can join these programs based on a match to required technology skills. Partners with the right foundation receive training, lab and demonstration build-outs, and additional Cisco support to promote the best customer experiences.
To earn this designation, Force 3 met the rigorous Cisco certified personnel levels required, ensuring that Force 3 sales and support organization are better prepared to properly sell, design, install and support the ATP program specific technology and products.
"As a long-time Cisco partner, we are very proud to be recognized as a Cisco Authorized Technology Provider for Application Centric Infrastructure technology," said Mike Greaney, Force 3's CEO. "We look forward to continuing to work closely with the Cisco team to further develop our expertise and enhance our shared ability to support our customers."
About Force 3
Force 3 is the network security company, providing infrastructure services to design, deploy, support and maintain their clients' technology needs. Their team of passionate experts includes industry leading security professionals, with the highest levels of certifications, proficiencies and experience. Force 3 boasts the only dedicated support service offering in the Federal market, ensuring optimal uptime to keep your infrastructure running efficiently. Whether an enterprise network, mobility, collaboration, data center or next-generation solution – Force 3's highly trained engineers and strategic partnerships deliver secure solutions for agencies who demand value and reliability.