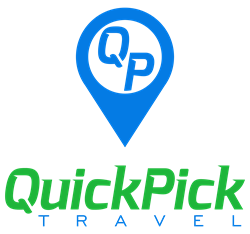 Business networking is the lifeblood of our business.
Toledo, OH (PRWEB) June 23, 2015
Three business networkers recently launched QuickPick Travel, an online travel service that is making waves in the industry and changing the way people book travel online.
They attribute much of their success to their active participation in networking groups, both local and of national stature.
Travel agent TC Clements, prior to becoming President and CEO of QuickPick Travel was on a standard "one-to-one" as encouraged by his membership in BNI (Business Networking International), to learn more about a copier sales rep that was also in his group. These meetings allow members to learn more about each other's business so that each can find and refer potential clients with more information and a better idea of what the business does and who the business person is.
That day in February 2014 became the first step toward the creation of QuickPick Travel.
Clements said, "BNI gave David Freed, (VP) and I a chance to really get to know one another and to know how we viewed business, sales, and entrepreneurship. When we met it was like we had known one another for some time."
The two began developing the idea for a new travel industry business model. Knowing they would need help in marketing their venture, they put the word out in their own BNI chapter that they needed a "marketing guru."
"We had interviewed several candidates with little success," Clements said. Within minutes of asking the chapter, a referral was sent to his phone and the name of QuickPick Travel's future Director of Marketing, Pamela Terhune, was listed in the referral.
"Because I knew the person making the referral I had a good idea of the quality of Pamela before we ever met. When we did meet, I had to pretend to not be too excited as I still had to get her on board." Clements explained. "For our company, QuickPick Travel, BNI was the backbone of our formation, and other networking groups that we're a part of continue to be the life blood that runs through it."
When it came time to develop the company's technology team it was a networking contact that led them to their partner. Groups like local Chambers, the Women's Entrepreneurial Network, The DRIVE Group, and local Rotary organizations that the principles belong to shared, liked and promoted the business well in advance of the launch and served as great test subjects. To this day, all of the company's vendors, accounting team, etc. came through business networking referrals.
"Time is precious and finding the right people with the right skill set quickly is key to any venture. Being able to rely on our BNI and other networking contacts made our herculean development pace possible." Clements said.
QuickPick Travel is an alternative to the current monopoly of online travel buying sites where clients go without aid, without direction, and have to spend countless hours trying to determine, on their own, which hotel, cruise, flights, or resort best suit their needs, their desires, and their wants. QuickPick Travel offers something new by allowing travelers to quickly enter info about themselves, their travel desires, as well as their budgets and timeframe. That information then goes to vetted travel agents that make recommendations and compete for the user's business. The user is under no obligation to buy but receives insider information from experts in the industry.
A unique feature of the business is that consumers dictate how they want to receive itineraries (email, phone call, mail, etc.) and only a maximum of 3 agents will work on their request. After 1 week, agents are no longer allowed to communicate with the consumer unless the consumer reaches out to them or becomes a client. Consumers rest easy knowing they won't be bombarded with unwanted solicitations long after a trip has been booked.
"Billions have been spent by the heavy hitters in the travel world to convince you that their sites are the best price. That simply is not always the case. And, those sites really don't care about the user. How can they when they are merely search engines spitting out a list of search results? To those businesses, it's only about selling product," reminds Clements.
"Our site is all about the user. Their likes, dislikes, needs, and wants come first and we bring industry insiders together with shoppers to create a marketplace that is safe and secure to the user and competitive to the seller." Clements said, "The best part is that we help everyone involved. To the user we are a much needed resource to save them time, money and aggravation. To the travel agent we are a real connection to millions of travelers who want and deserve more. To our vendors we are networking partners that are on this journey together."
The site, business, and philosophy of QuickPick Travel is pretty simple: "This time…it's all about you!"