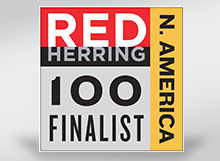 Sunnyvale, CA (PRWEB) May 28, 2015
iCharts, a pioneer in cloud-based Collaborative Visual Intelligence announced today it has been short-listed for Red Herring's Top 100 North America award, a prestigious list honoring the year's most promising private technology companies from the North American business region.
Red Herring has been selecting the most exciting and promising start-ups and "scale ups" since 1995. Finalists are still evaluated individually from a large pool of hundreds of candidates based across North America. Twenty major criteria underlie the scoring and process. They include, among others: the candidate company's addressable market size, its IP and patents, its financing, the proof of concept, trailing revenues and management's expertise. Each company goes through an individual interview after filling out a thorough submission, complemented by a due diligence process. The list of finalists often includes the best performing and prominent companies of that year.
This unique assessment of potential is supplemented by a review of the company's actual track record and standing, which allows Red Herring to see past the "buzz" and make the list a valuable instrument for discovering and advocating the greatest business opportunities in the industry. During the several months leading up to the announcement, hundreds of companies in the fields of security, cloud, software, hardware, big data, life sciences, mobile and others completed their submissions to qualify for the award.
"We are thrilled to have been selected as a finalist in Red HerrIng's Top 100 North America awards. This award, coupled with iCharts being recently named as a finalist in the 2015 SIIA Software CODiE Awards, is a recognition of the value we are providing to our customers," said Seymour Duncker, Founder and CEO, iCharts. "Our easy-to-use, yet comprehensive data visualization platform empowers organizations to improve their performance through the use of visual analytics. Business users no longer need to rely on their over-burdened IT teams to help them create and distribute powerful dashboards."
Numerous organizations, from leading brands such as The Coca-Cola Company, IDC and Dun & Bradstreet to high-growth companies such as Medidata Solutions have adopted iCharts' industry leading data visualization and reporting capabilities empowering everyone in their organization to generate real-time insights from their data. iCharts' patented technology includes:

State-of-the-art visualization: Highly interactive visualization widgets that can be exposed individually or composed into comprehensive dashboards and can be easily embedded in websites and enterprise cloud platforms.
End-user focused composition: With over 200 design options and a design paradigm focused on end-users, not IT, organizations can visualize almost any data set.
Robust and scalable platform: Cloud-based platform that was architected from the ground up to meet the most demanding data environments and business needs, scales to meet the demands of 10 or 10,000 users and includes API integration to leading enterprise cloud platforms.
The short-listed companies qualify to present their winning technology at the Red Herring North America. The Top 100 winners will be announced during a special awards ceremony the evening of June 3.
About iCharts
Based in Sunnyvale, Calif., iCharts is the unrivaled leader in Collaborative Visual Intelligence, trusted by leading brands such as The Coca-Cola Company, IDC, MarketWatch and Dun & Bradstreet. iCharts was also a finalist in the 2015 SIIA Software CODiE Awards for Best Business Intelligence/Analytics Solution. Its cloud-based visual analytics platform empowers everyone to quickly visualize complex business information, large-scale research and dynamic data sets. Its simple, easy-to-implement solutions empower users to rapidly create, distribute and collaborate via comprehensive dashboards, interactive reports and intuitive charts. Data Insights and Intelligence are rapidly distributed and disseminated, delivering knowledge and empowering decisions. Visit http://icharts.net for more information and join the conversation @icharts.
###
iCharts is a registered trademark of iCharts, Inc. All other trademarks and product names are the property of their respective companies.