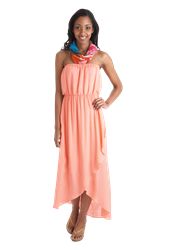 Just Be… is perfect for today's busy working woman who wants to look her best without breaking the bank
MATTHEWS, N.C. (PRWEB) June 02, 2015
Family Dollar Stores, Inc. (NYSE: FDO) today announced the launch of its exciting 2015 women's clothing line, Just Be…™. Designed with the hottest trends in mind - cultural and geometric designs, minimalistic prints, and bold patterns - make this budget-friendly fashion line sophisticated, yet casual. Complete with accessories like sandals, scarves, necklaces, and clutch bags, Just Be… has something for even the most discerning fashionista. Aligned with Family Dollar's other low-priced products ranging from home décor and beauty to food and hair care, all Just Be… apparel and accessories are priced below $15.
"We are delighted to present our exclusive Just Be… spring fashion line to our valued women customers," says Sarah Tate, Family Dollar's Women's Apparel Buyer. "Just Be… embodies the spirit of freedom and elegance, with a bit of flair and modern styling. From romantic bohemian and Moroccan-inspired looks to active wear and artisanal expressions, Just Be… encourages all women, no matter background or life experience, to just be fabulous, fashionable, and chic."
The Just Be… 2015 spring collection is available at Family Dollar stores beginning this month and includes a selection of women's and plus-size clothing, as well as footwear and fashion accessories to create a complete spring wardrobe. Stay up-to-date on the latest news and happenings at Family Dollar at http://www.facebook.com/familydollar or Twitter at @myfamilydollar. Customers can check the hours of their local Family Dollar stores, and learn more about Just Be… at http://www.familydollar.com.
About Family Dollar
For more than 54 years, Family Dollar has been providing value and convenience to customers in easy-to-shop neighborhood locations. Family Dollar's mix of name brands, and quality, private brand merchandise appeals to shoppers in more than 8,100 stores in rural and urban settings across 46 states. Helping families save on the items they need with everyday low prices creates a strong bond with customers who refer to their neighborhood store as "my Family Dollar." Headquartered in Matthews, North Carolina, just outside of Charlotte, Family Dollar is a Fortune 300, publicly held company with common stock traded on the New York Stock Exchange under the symbol FDO. For more information, please visit http://www.familydollar.com.