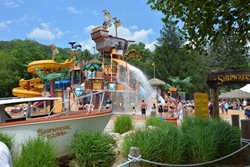 We feel it's very important for our local residents to have a great experience... - Jeb Boyd
Lincoln, NH (PRWEB) June 08, 2015
To celebrate its opening for the 2015 season, Whale's Tale Waterpark in Lincoln is offering a special "locals rule" rate for New Hampshire residents during its shoulder seasons. From June 11 through June 25, guests who show a valid New Hampshire driver's license pay $18 per ticket for each member of their family, a savings of $9 per ticket. The "locals rule" rate returns from August 30 through September 7, including the Labor Day Weekend, to allow New Hampshire residents to enjoy every last drop of summer.
There are attractions at the award-winning waterpark for all members of the family. Adrenaline junkies can feel the rush on Poseidon's Voyage or Eye of the Storm. For those wanting to relax, there's Jonah's Escape, a lazy river perfect for floating in a tube. All ages can escape to the ocean in Willie's Wild Waves pool, and for the youngest guests, there's Whale's Harbor, featuring three new water features. Free parking and free tubes are always included in the admission price.
"We feel it's very important for our local residents to have a great experience, so we offer this opportunity for them to save money, and enjoy the park at a time when it's not quite so busy as it is during our peak summer period," commented Jeb Boyd, general manager of Whale's Tale and Alpine Adventures. "We used to host a one-day midweek event, but decided to extend the special to two weeks in June and one week in September so guests could enjoy the park at their convenience."
Residents must present a valid New Hampshire driver's license at the time of purchase to take advantage of the Locals Rule rate; therefore, these tickets are not available online, but can be purchased at the waterpark on the day of a guest's visit.
For more information on Whale's Tale Waterpark, visit whalestalewaterpark.net. For the latest events, news and exclusive special offers, like them on Facebook and follow them on Instagram.