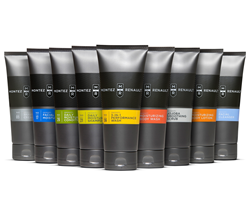 New York, NY (PRWEB) May 28, 2015
Cleveland Browns linebacker Karlos Dansby's new skincare line 'Montez Renault' took home top honors at the Men's Health Grooming Awards in NYC Wednesday night. Dansby, who once held the title of 'highest paid player in NFL history' thanks to his $43 million deal with the Dolphins, recently launched the line along with Chris Butler, whom he previously played with for Auburn University.
The all-natural collection of nine hair/skin care products features a cleanser, moisturizer, smoothing scrub, and more, but it was their 3-in-1 Performance Body Wash that earned accolades at the prestigious event. The six-month old beauty line beloved by celebrity groomers uses a patented technology called Ousone to deliver the finest ingredients directly beneath the skin's surface.
The former football teammates, who always shared a strong affinity for grooming, first reunited to open Butler's Grooming Club inside Saks Fifth Avenue in 2009. Montez Renault products are also available through Birch Box beginning this month.
http://money.cnn.com/2015/05/27/smallbusiness/karlos-dansby-nfl-entrepreneur/