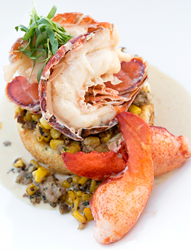 "Making use of the best ingredients available, whether farmed, crafted or caught is a priority."
Cape Elizabeth, Maine (PRWEB) June 02, 2015
Maine's Inn by the Sea Appoints Steve Sicinski New Chef of their Ocean View Restaurant
A unique culinary style combines classic French training with a passion for rusticity
Maine's premier beach destination, Inn by the Sea, appointed Steve Sicinski Executive Chef of Sea Glass, the hotel's ocean view restaurant, announced the Inn's General Manager, Jim Glanville. Chef Sicinski will oversee all aspects of the resort's dining options including Sea Glass Restaurant and lounge, room and pool service, as well as corporate and social events and weddings.
Chef Sicinski joins the staff at Inn by the Sea after a distinguished culinary career as Executive Chef at several exclusive properties including Arizona's Mii amo Destination Spa, and Vermont's Topnotch Resort and Spa.
Sicinski's progressive cooking style evolved with an unlikely melding of classical French training at Le Cordon Bleu, a passion for rusticity and years of experience pioneering SPA cuisine where health and wellness were incorporated into menus. He doesn't see himself as representative of any one particular culinary trend, but uses experience from different environments to create menus that merge old school technique with constant innovation.
"Making use of the best ingredients available, whether farmed, crafted or caught is a priority," says Sicinski . "The challenge is to create something terrific with whatever is around. I rely on the hard work and skill of producers and appreciate the great product they create. My long standing New England roots have given me an appreciation for traditional dishes and huge respect for the decadent resources that define New England and coastal Maine."
Focusing on the Maine experience the Chef's Lobster Bake incorporates all the ingredients of a traditional bake on one plate- handmade sausage with corn hash tops a Maine potato cake crowned with fresh local lobster from Alewives Farm, parsley and lemon butter.
Sicinski believes in developing dishes he enjoys, crafting them to be both delectable and approachable. "I think people are moving away from showy presentations and pretension, and are more interested in simple food that tastes great," says the Chef who sees his food as stylishly unfussy.
"Chef Sicinski has an undeniable passion for food and creative culinary style that will be a huge addition to Sea Glass," stated Glanville. "I'm delighted he'll be on board with a new vision. The restaurant redesign creates an atmosphere where guests feel welcomed and relaxed while they enjoy the chef's inventive menu…and of course the great ocean views remain untouched!"
While at Mii amo Destination SPA as Executive Chef, Sicinski co authored A Journey of Taste featuring the SPA's most popular recipes. Sicinski earned a Diploma of Arts from Le Cordon Bleu at the Atlantic Culinary Academy and an Associate's Degree of Science from McIntosh College in Dover New Hampshire.
About Inn by the Sea: The luxurious and stylishly modern Inn by the Sea is located on a mile of unspoiled sand beach in the charming coastal town of Cape Elizabeth, just minutes from Portland's urban chic small port city. Inn by the Sea is set in a location of natural coastal beauty and offers guests unsurpassed personalized service with 61 suites and fireplace rooms, full service SPA and regional cuisine with spectacular ocean views. Selected for both Conde Nast Gold and Travel & Leisure's Best Hotels in the World lists for 2014, Inn by the Sea is Maine's only Virtuoso ® and Preferred Boutique® property. Maine DEP Green Lodging and Silver LEED® certifications. Children and dogs warmly welcomed, water activities and golf nearby. 15 minutes to Portland's International airport and Amtrak terminal. 90 minutes from Boston.
FMI or hi res photos: Rauni Kew, Inn by the Sea, 40 Bowery Beach Road, Cape Elizabeth, Maine 04107. Tel: 207-799-3134. Cell: 207-6702-8500. Email: rkew@innbythesea.com http://www.innbythesea.com Facebook Inn by the Sea Twitter @innbythesea.com