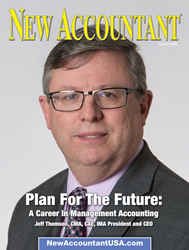 Chicago, Illinois (PRWEB) May 28, 2015
New Accountant Magazine is a trusted professional journal for college accounting students since 1985
This issue of New Accountant focuses on various career paths for accounting students—from management accounting to taxation—and on helping recent graduates kick start their careers.
"New Accountant provides crucial information on the numerous and varied career choices in the accounting profession and on discovering the best fit for each accounting student. It prepares them to embark on the job hunt, ultimately for a fulfilling career," says Steven Polydoris, New Accountant Editor & Publisher.
The featured cover story, "Plan for the Future: A Career in Management Accounting," a Q & A with Jeff Thomson, CMA, CAE, President and CEO of IMA (Institute of Management Accountants), discusses management accounting as a rewarding career and delves into the opportunities and challenges it entails. Management accountants are "at the forefront of a company's decision-making process," says Thomson, and students who choose management accounting "can look forward to a rewarding future with exciting career options."
The peer reviewed "It's a Tough Employment Market," by Douglas K. Barney, PhD, CPA, CFM, Professor of Accounting and Coordinator of Accounting and Business Law, Indiana University Southeast, contains valuable advice on acing job interviews, with tips such as familiarizing oneself with the firm, and asking "at least one insightful question."
More career tips can be found in "The Smart Professional's Guide to a Successful Career," by Alicia Washington. Also included is "Tax Careers as a Goal, NOT as a Last Resort," by K. Bryan Menk, PhD, Assistant Professor of Accounting, A.J. Palumbo School of Business Administration, Duquesne University, which provides information on taxation as a career path to consider.
This issue continues New Accountant's "The Importance of Taking the CPA Exam" series by expert accounting professionals with "Becoming a CPA Provides the Edge Your Career Needs," by Joanne Fiore, CPA, AICPA Vice President of Professional Media, Pathways and Inclusion, and Rebecca Doel, CPA, Coordinator-College and University Initiatives, AICPA. This second installment details the benefits of earning a CPA license, including a higher salary and improved employment rates. The authors offer tips to help students gain a "leg up on the competition upon graduation," such as getting an internship.
Featured advertisers in this issue include Bay Path University, Carlow University, Nichols College, and the University of South Dakota. Also featured are IMA, ThomsonReuters Bisk CPA, and WeiserMazars.
About:
New Accountant is edited for college accounting students and accounting professionals worldwide in print & online and published six times a year and distributed to colleges and universities worldwide. For more information, visit http://www.NewAccountantUSA.com or call 773-866-9900 Ext. 12.