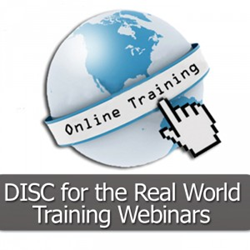 Boardman, Ohio (PRWEB) May 29, 2015
DISC, a method of behavioral analysis that explores the connection between personality type and behavior, is used by companies to improve hiring practices, streamline training, boost teamwork, and increase productivity. What was once considered an out-of-the-box practice, has now become an integral part of many companies' infrastructure. A recent poll from the Society for Human Resource Management found that over 70% of HR managers considered personality assessments like DISC to be an essential part of the hiring process, and a vital predictor of on-the-job performance.
As the demand for DISC education rises, DISC trainers have been reaching out in search of new tools and techniques to use in their sessions with clients. PeopleKeys, a company with over 35 years of experience in creating customized DISC training solutions, has answered the call with a series of live "Trainer's Toolbox" webinars. The first Trainer's Toolbox webinar aired in February and received such a positive response, PeopleKeys has announced they will air a follow-up, "Trainer's Toolbox #2," on June 11th at 1pm EST.
Trainer's Toolbox #2 will follow the model of Trainer's Toolbox #1, while presenting DISC trainers with an entirely different set of techniques for teaching DISC personality analysis to clients. Techniques will include all-new interactive games, activities, and icebreaking exercises. Trainer's Toolbox #2 will help DISC trainers innovate and improve their training sessions by incorporating activities that open the door for thought-provoking discussion, reinforce key DISC concepts, and help illustrate the many applications of DISC.
Trainer's Toolbox #2 will be led by master DISC coach, John Schindell, and enrollment is $49. Each participant will also receive a copy of the PowerPoint presentation used during the webinar, which can be repurposed in their own DISC training sessions.
"DISC trainers are in greater demand today than ever," said Schindell. "The success of the first Trainer's Toolbox webinar showed us that there were a lot of trainers looking to innovate, to expand their offerings, and to keep their trainings fresh. Trainer's Toolbox #2 will give instructors the strategies they need to make sure that their training sessions are fun, engaging, and diverse. Whether you are a seasoned trainer or just looking for an idea to add some excitement to your next seminar, this is the webinar for you."
The Trainer's Toolbox #2 webinar will be presented as a part of PeopleKeys' popular DISC for the Real World series, which includes monthly installments of interactive 60-minute DISC training sessions on a variety of topics. For more information about PeopleKeys, DISC, their personality testing and behavioral analysis tools, or to register for the June 11th Trainer's Toolbox #2 webinar, visit peoplekeys.com.
About PeopleKeys
PeopleKeys has been providing tools to measure the connection between personality and human behavior for over 30 years. PeopleKeys believes that an understanding of human behavior can be used to create effective leaders, make smart hiring decisions, streamline productivity, improve sales, and build strong teams. Their DISC personality tests and behavioral analysis tools have been translated into over a dozen different languages, and are sold around the world. For more information about PeopleKeys and their DISC solutions, please contact Marketing Manager Kaitlyn Miller at 330-599-5580 x113.