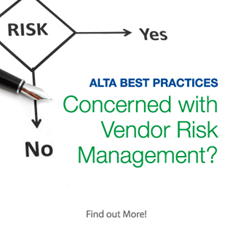 Certification from a trusted, independent third party would aid in your vendor due-diligence efforts and allow you to avoid the necessity of conducting your own assessment of that organization
Knoxville, TN (PRWEB) May 28, 2015
In its newest white paper, PYA details the rise of the ALTA Best Practices Framework and how it addresses issues resulting from the financial institution regulatory landscape. The paper also designates key reasons why PYA is a leading provider for ALTA Best Practices implementation, evaluation, and certification.
In the white paper, "Finally, A Solution for Compliance Officers Concerned with Vendor Risk Management," PYA focuses on the benefit to lenders of working with title companies that demonstrate compliance by exhibiting ALTA Best Practices Certification. The paper provides guidance for lenders and other financial organizations as to what the ALTA Best Practices Assessment Procedures entail, as well as insight into how the Best Practices Framework is becoming an industry standard. It also helps clear up any confusion related to the types of engagements that can be performed by accounting practitioners as set forth by the American Institute of Certified Public Accountants (AICPA) in its newly issued Technical Questions and Answers (Q&A) guidance.
According to the paper, "The purpose of the certification is to provide lenders with objective proof that the day-to-day operations of the organization have been independently reviewed and found to be in compliance with ALTA Best Practices. This independent, third-party certification is intended to be a desirable benefit to the lending industry. Certification from a trusted, independent third party would aid in your vendor due-diligence efforts and allow you to avoid the necessity of conducting your own assessment of that organization, saving you considerable time and effort."
PYA has been accepted into ALTA's Elite Provider Program and is recognized as the first Elite Provider to offer ALTA Best Practices Certification. ALTA's Elite Provider Program provides settlement companies with a source for identifying reputable providers that deliver high-quality services. In addition, PYA performs all four types of engagements—examinations, reviews, agreed-upon procedures, and consulting engagements—in accordance with AICPA's Q&A guidance.
PYA works with financial institutions to develop risk-based compliance strategies; to implement robust, risk-based compliance programs; to perform regulatory compliance testing services and to assist management with prioritizing internal audit focus areas through the use of an internal audit risk-assessment process.
---
About PYA
PYA is a certified public accounting and consulting firm that assists title and settlement companies with the development and evaluation of policies and procedures consistent with ALTA's Best Practices Framework and independent assessments of operational processes, supported by written policies and procedures, for the purpose of certification. For over three decades, PYA has provided exceptional professional service and delivered comprehensive compliance, assurance, tax, and advisory services to clients. For more information, visit pyabestpractices.com.