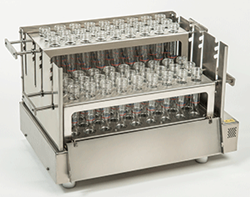 Charleston, S.C. (PRWEB) May 28, 2015
With the new HotBlock® TKN Systems from Environmental Express®, the struggle to perform TKN (Total Kjeldahl Nitrogen) digestion is over. Temperature, ramp rate, and hold times are easily programmed. Up to 20 steps can be set up automatically for each digestion procedure.
This time-saving system also handles higher temperature capabilities, with the capacity to heat up to 450°C. The block heats faster to begin digesting faster. Users can program and recall up to eight applications via the advanced touch-screen controller.
To withstand the high temperature and highly corrosive nature of the TKN procedure, the block, tube stand, and cooling rack are all encased in 316 stainless steel. Select from two configurations: 28 wells and 54 wells.
For more information, go to http://www.envexp.com/products or call 800-343-5319.
Environmental Express is a leading developer, manufacturer and distributor of environmental laboratory equipment and consumable supplies for commercial, governmental, industrial and academic laboratories worldwide. The company provides an entire range of laboratory products used in applications such as water/wastewater analysis, oil and grease analysis, metals analysis and hazardous waste analysis. We pride ourselves on providing innovative products, superior technical support, knowledgeable customer service and same day shipping.
The company's products are specified in over 30 EPA standards methods and range from equipment including the award-winning AutoBlock® System for Metals Digestions and SimpleDist® System for Ammonia and Cyanide Distillations to disposable coated BOD bottles and preweighed ProWeigh® filters.