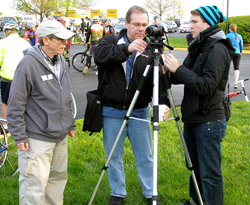 Capturing the fun, the teamwork and the overall experience on film and being able to share this event was an incredible experience.
Arlington, VA (PRWEB) May 28, 2015
The 110-mile April 24-26 Face of America bicycle and hand cycle ride from national non-profit World T.E.A.M. Sports is featured in a series of short documentary videos from Talking With Heroes.
Host Bob Calvert and videographers Andy and Ryan LaPointe include interviews with participating veteran and civilian riders, sponsors and staff members. The April 24 Face of America banquet in Arlington, Virginia includes a musical performance by The American Bombshells and a keynote talk by United States Marine Corps MSgt William "Spanky" Gibson. These videos are available online from World T.E.A.M. Sports.
"I was totally amazed as I watched and met hundreds of men and women who have served our country," said Calvert. "To see 140 wounded warriors riding 110 miles from the Pentagon to Gettysburg and to hear their stories - what an honor it was to be a small part of this."
Videographer Andy LaPointe, who previously had created business videos in Michigan, was assisted in his videography by his teenage son Ryan. "The riders were a family," recalled LaPointe. "Not only while on the road, but also at the road stations and evening events. The energy of being part of a team and hugeness of the experience could be felt throughout the entire ride. Capturing the fun, the teamwork and the overall experience on film and being able to share this event was an incredible experience."
"The event went by so fast. Four days seems like a long time, but there wasn't a time that you wanted the event to be over. It seemed like every moment of the ride was pulling you to the next," said LaPointe.
Calvert previously had created documentary videos during five trips to Iraq and three to Afghanistan in 2006 to 2011. Documenting progress and "positive stories that most Americans had heard little about" in nearly 300 videos, Calvert used his extensive experience to capture video from throughout the Face of America.
"My mission is to have these videos watched by as many people as we can reach," said Calvert.
With interest in riding in the 2016 Face of America, Calvert said he plans to create a team for the ride. "To be able to experience Face of America with hundreds of veterans and great Americans, that would be incredible."
The LaPointes also have interest in returning in 2016. "After the final day was over, the memories provided a feeling of accomplishment and satisfaction," said LaPointe. "You knew you were part of an amazing experience."
The annual 110-mile, two day Face of America ride honors the sacrifices by military veterans in their service to their country. The 2015 ride saw 600 participants from across the United States, Puerto Rico, Canada and Denmark, including nearly 140 injured veterans.
Capital One Bank served as the presenting sponsor for the Face of America. Additional support was provided by American Portfolios Financial Services, Booz Allen Hamilton, Benson Botsford LLC, Brioni, CA Technologies, Deven's Recycling, DuPont Fabros Technology, Fidelity & Guaranty Life, Freshbikes, General Electric, Lerch, Early & Brewer, Penske Truck Rental, Sila Solutions Group, SUBWAY of the Walter Reed National Military Medical Center, Three Wire Systems LLC, U.S. Silica, Vedder Price, Veterans Corps of America and Xtiva Financial Systems.
About World T.E.A.M. Sports
World T.E.A.M. Sports is a 501(c)(3) not-for-profit organization chartered in North Carolina and headquartered in Holbrook, New York. Since 1993, World T.E.A.M. Sports has organized athletic events for disabled and able bodied citizens – mountain climbing, white water rafting, biking, and more. Four things always happen at our events: (1) Disabled participants build self-confidence and physical fitness; (2) The disabled provide a role model for other disabled citizens, encouraging them to take up physical activities; (3) The disabled become a moving inspiration to other participants and to spectators when they see that disabled individuals can meet challenges beyond anyone's imagination; and (4) The disabled and able-bodied participants learn to work as a team to overcome those challenges. World T.E.A.M. Sports changes lives through sports.