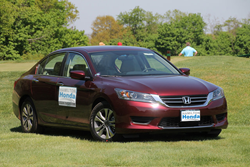 "This year's event went off without a hitch-- the weather was perfect; the course was beautiful, and we were very pleased with the success of the fundraiser. We look forward to continuing to be a supporter of this worthy cause." - Mike Saporito
HAMILTON, NEW JERSEY (PRWEB) May 28, 2015
Hamilton Honda is proud to announce that it was a major sponsor of the recent Ryan's Quest Annual Golf Outing, a fundraiser for the organization dedicated to the fight against Duchenne Muscular Dystrophy.
This year's golf event took place at Forsgate Country Club on May 7, 2015. Each year, it raises awareness and support for the research of potential therapeutics and testing platforms for development of Duchenne compounds. Duchenne Muscular Dystrophy is the No. 1 lethal genetic disorder affecting those in childhood.
Hamilton Honda has been involved with the Ryan's Quest organization since 2010. This year's event sold out, with 221 golfers participating.
"Each year, we're incredibly proud to be a part of the Ryan's Quest Golf Outing," said Mike Saporito, co-owner of Hamilton Honda. "This year's event went off without a hitch-- the weather was perfect; the course was beautiful, and we were very pleased with the success of the fundraiser. We look forward to continuing to be a supporter of this worthy cause."
After the golf event, Hamilton Honda sponsored a silent auction that included several NFL memorabilia items that were donated by co-owners Jessie Armstead and Saporito.
Ryan's Quest is a non-profit organization that was founded by Maria and David Schultz after their son, Ryan, was diagnosed with Duchenne Muscular Dystrophy. Since then, it has embodied a mission of increasing awareness of the disease, with the intention of allocating funds for research that has the greatest potential of finding a cure or treatment. Hamilton Honda and other businesses, organizations and individuals work hard every year to help further the cause.
ABOUT HAMILTON HONDA
Hamilton Honda was founded by former New York Giants Pro-Bowl linebacker Jessie Armstead and automotive veteran Mike Saporito, and opened its 65,000-square-foot, state-of-the-art facility in Hamilton, New Jersey, on May 19, 2009. After only one year in business, Hamilton Honda skyrocketed into the top 10 Honda retailers in the country. The dealership has earned numerous accolades, including the Hamilton Township New Business Award, Hamilton Community Enrichment Award and "Dealer of the Year" at the 15th Annual Urban Wheel Awards in Detroit. The dealership has also been recognized with the President's Award, American Honda Motor Co.'s most prestigious recognition, in 2010, 2012 and 2013, as well as with the Council of Excellence Award in 2010, 2011, 2012, 2013 and 2014. To learn more about Hamilton Honda, visit http://www.hamiltonhonda.net/.