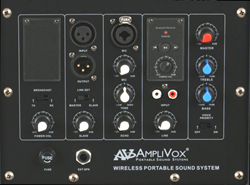 'Our PAs with Bluetooth make it simple to incorporate music and other audio media into presentations, all easily controlled from the user's handheld device.' -- Don Roth, AmpliVox CEO
Northbrook, Illinois (PRWEB) May 29, 2015
AmpliVox Sound Systems has upgraded most of its portable PA systems to include Bluetooth wireless connectivity at no additional charge. The addition of Bluetooth technology as a standard feature will allow users to stream music and other audio directly from any enabled smartphone, tablet, computer, or other device. Bluetooth enhanced products will include AmpliVox's SW800 Titan Portable PA, SW915 Digital Audio Travel Partner, and SW720 Wireless PA. In addition, AmpliVox will now offer standard Bluetooth on many of its most popular sound-equipped lecterns.
"Streaming technology has added a new dimension to how presentations engage audiences," noted AmpliVox CEO Don Roth. "Our PAs with Bluetooth make it simple to incorporate music and other audio media into presentations, all easily controlled from the user's handheld device."
AmpliVox's portable PA systems with Bluetooth offer versatile sound amplification for a wide range of indoor and outdoor settings. The SW915 Digital Audio Travel Partner supplies the greatest coverage for large spaces, with a 250-watt amp for audiences up to 7,500 and room sizes up to 25,000 square feet. It also accommodates up to four wireless microphones, making it an optimal choice for presentations with multiple speakers. The SW800 Titan system contains a 100-watt amp and eight inch speaker for audiences up to 2,500 and rooms up to 10,000 square feet, all in an easy-to-transport wheeled unit with luggage handle. For smaller venues, the SW720 Wireless PA's six inch full range speaker and 30-watt amp project crystal clear sound to audiences of up to 500 people in rooms as large as 2,500 square feet.
In the SW800 and SW915 systems, the addition of standard Bluetooth will coincide with the elimination of the units' standard integrated CD player.The SW720 will continue to be available with an integrated CD player along with the new Bluetooth module. This change reflects the added versatility, value, and ease of use delivered by the newer streaming technology.
"Market trends show sales of audio CDs to be on a steady decline; every year has been worse than the preceding year in terms of CD sales. At the same time, paid digital downloads are increasing significantly," observes Roth. "With streaming of digital music now the dominant mode of listening, we have decided to replace the standard CD player with a Bluetooth module and make the CD player an option."
The new Bluetooth-enhanced lecterns from AmpliVox offer self-contained audio control, including streaming, with attractive contemporary designs. Lecterns available with standard include, but are not limited to:

Multimedia Computer Lectern (SS/SW3230)
Presidential Plus Lectern (S/SW450)
Executive Column Lectern (S/SW505)
Executive Adjustable Height Column (S/SW505a)
Chancellor Lectern (S/SW470)
Elite Lectern (S/SW355)
Pinnacle Floor Lectern (SS/SW3250) – Features a special Integrated Dashboard with complete side-by-side audio controls, onboard digital clock/timer, and a built-in, shielded lectern light.
Contemporary Lectern (SS/SW3100)
Coventry Lectern (SS/SW3030)
Victoria Lectern (SS/SW3020)
Patriot Lectern (SS/SW3040)
In addition, several of AmpliVox's popular Acrylic Lecterns and Contemporary Lecterns are available with Bluetooth by special order.
For more information about AmpliVox portable PA systems, visit http://ampli.com.
About AmpliVox
AmpliVox ® Sound Systems products are predominantly made in the USA, meet stringent CE standards, and come with a warranty up to 12 years. Our wide selection meets every speaker's sound coverage and style needs. Whether you're in a small meeting room of 10 people or a large 20,000 square foot auditorium of up to 10,000 people, AmpliVox ® Sound Systems' extensive range of superior quality, simple to operate and reliable electronics including our new integrated multi-media furniture line provide maximum satisfaction and ensure a crystal clear message. Through its AmpliVox Cares Corporate Contribution program, AmpliVox strengthens and improves the communities we serve through innovative programs that channel financial support as well as products to public service organizations. AmpliVox products are compliant with the California Environmental Protection Agency Air Resources Board (CARB) and our PA systems and lecterns are manufactured to be RoHS (Restriction of Hazardous Substance) and WEEE (Waste Electrical and Electronic Equipment) Compliant. Visit http://www.ampli.com for more information.
The Bluetooth word mark and logos are registered trademarks owned by Bluetooth SIG, Inc. and any use of such marks by AmpliVox Sound Systems, LLC is under license.