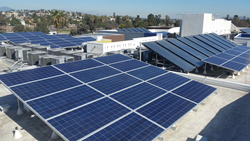 These solar systems will save us money every year, and greatly reduce Sol y Luna's overall energy consumption.
East Los Angeles, CA (PRWEB) June 02, 2015
Encased in bright and colorful mosaic tiles on the corner of 1st and Evergreen Avenue in the Boyle Heights neighborhood of East Los Angeles, stands a newly constructed 53-unit affordable housing complex called Sol y Luna Apartments. The building will provide safe, secure housing for some of East LA's lowest-income residents. To maintain long-term affordability, and ensure the building is protected from rising utility costs, the project includes solar photovoltaic and solar hot water systems designed and installed by Los Angeles based solar company Promise Energy.
This unique $22 million dollar project is owned by affordable housing developer East Los Angeles Community Corporation (ELACC) and was designed by Silver Lake firm Birba Group Architects. Financed in part by low-income tax credits, Sol y Luna Apartments is certified at the LEED Platinum level, and has installed efficiency measures including a graywater system along with the solar photovoltaic and solar hot water systems.
"The low-income and very low-income residents of Sol y Luna are very excited that their building is powered by clean, renewable energy," says Maury Ruano, Senior Project Manager at ELACC. "As affordable housing developers, sustainability is an important priority for ELACC, because these solar systems will save us money every year, and greatly reduce Sol y Luna's overall energy consumption."
"Promise Energy also filed incentives for us for both solar systems, so in the long run the overall costs of the systems ended up being around $90,000 less than the full installation cost, not including the 30% Investment Tax Credit. That's a lot of extra money back in our pocket we can put towards developing additional affordable housing communities like Sol y Luna for other low-income families and individuals." Ruano said.
Promise Energy attended the recent Grand Opening of Sol y Luna, and gave rooftop solar tours to residents and attendees, showcasing the design of the 117 panel solar photovoltaic system and the efficiency of the 24 collector solar hot water system, which harness, store, and distribute clean, renewable energy from the sun.
"The 35 kilowatt solar photovoltaic system will save the project over $10,000 in annual electric bills every year for the next 25 years or more, while the 24 collector solar water heating system will offset nearly 3,000 therms of natural gas annually, equivalent to the carbon dioxide emissions from burning 17,000 pounds of coal a year," says Jonas Villalba, VP of Project Development at Promise Energy.
"In a city whose low-income population greatly exceeds the amount of available affordable housing, and with utility costs on the rise, we're proud to work with organizations like ELACC to bring the economic benefits of affordable clean energy to those who need it the most," says Adam Boucher, CEO of Promise Energy.
About Promise Energy:
Promise Energy Inc, is a full-service solar solutions provider, delivering integrated financing, design and installation for multifamily and commercial projects throughout California and the Western United States. Promise Energy partners with building owners and residents to save energy, and reduce operating expenses with solar water heating and solar photovoltaics. The company is currently working on solar for over 4000 units of affordable housing across Southern California; designing solar and net zero energy solutions for market-rate housing and commercial projects; and recently opened an office in Hawaii to help residents battle the nation's highest utility costs. To find out more, contact us at http://www.PromiseEnergy.com.
About ELACC
ELACC is an economic and social justice organization that provides community based services designed to enable Latino residents of Boyle Heights and its adjacent areas to build brighter financial futures, address gentrification, and create more opportunity within their neighborhoods. Go to http://www.ELACC.org for more information.