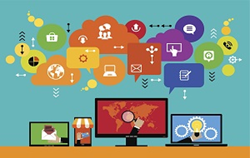 Boulder, Colo. (PRWEB) May 28, 2015
Enterprise Management Associates (EMA), a leading IT and data management research and consulting firm, today announced it will host a research webinar entitled "The Borderless Enterprise: Adapting Network Management to Mobility, Cloud, and Shadow IT." This upcoming webinar will be a roundtable discussion featuring Shamus McGillicuddy, senior analyst at EMA, Doug Roberts, director of products at Fluke Networks, and Mike Pennacchi, owner and lead network analyst at Network Protocol Specialists.
The term "borderless enterprise" generally refers to the shift of how new applications or services are supplied today compared to legacy approaches. While cloud services, mobility, and technology adopted by lines-of-business (also known as shadow IT) provide many benefits, they may also erode much of the control organizations once had over their infrastructure. Organizations use these technologies for a reason, however; they get the job done. The solution lies in gaining as much visibility and management as possible over these networks and services. The borderless enterprise enables this transformation.
McGillicuddy, Roberts, and Pennacchi will explain how this transformation is possible, as well as discuss:

How enterprise IT organizations are succeeding with these new technologies
Real-world examples of how IT can be an enabler and a partner in this new era
Insights from new EMA research on the borderless enterprise
Some key findings from this new research include:

Application performance issues are disrupting most enterprises: 67% report lost revenue, 77% report reduced productivity, and 64% report impacts on customer loyalty.
42% of enterprises say that solving performance problems for cloud-based applications and workloads is more difficult than with traditional non-cloud environments.
Many enterprises adopt cloud services without the involvement of IT. 28% of SaaS adoption and 34% of cloud-based storage adoption is led by lines-of-business (or shadow IT). Many IT organizations discover the presence of such cloud services when they cause security incidents (38% of enterprises) or users complain to IT about performance (22%).
The webinar is Thursday, June 4 at 2:00 p.m. Eastern. Those who wish to attend can register at: http://research.enterprisemanagement.com/borderless-enterprise-webinar-pr.html
About EMA
Founded in 1996, EMA is a leading industry analyst firm that specializes in providing deep insight across the full spectrum of IT and data management technologies. EMA analysts leverage a unique combination of practical experience, insight into industry best practices, and in-depth knowledge of current and planned vendor solutions to help their clients achieve their goals. Learn more about EMA research, analysis, and consulting services for enterprise line of business users, IT professionals and IT vendors at http://www.enterprisemanagement.com or blogs.enterprisemanagement.com.