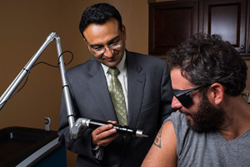 "We are dedicated to providing the latest technology for anti-aging and cosmetic treatments," stated Dr. Hardik Soni, MD
Summit, NJ (PRWEB) June 03, 2015
Ethos Spa, Skin and Laser center is proud to announce the availability of the new Picosure laser for tattoo removal and skin rejuvenation. The company joins an elite group of four other New Jersey-based practices offering this leading-edge technology.
"We are dedicated to providing the latest technology for anti-aging and cosmetic treatments," stated Dr. Hardik Soni, MD, the company's medical director and owner when asked about how the new system fits within the practice's existing range of lasers and other advanced technology.
Picosure is the latest advance in tattoo removal technology, and Ethos is one of only a handful of practices in the entire state to offer this solution. It is used for tattoo removal, oftentimes reducing the number of treatments required in comparison to older technology. Additionally, the focused lens array allows the Picosure system to treat signs of aging, such as blemishes, sun spots, fine lines and dull complexion.
In terms of laser tattoo removal, NJ patients will find that the Picosure system offers a broad range of additional benefits. For instance, it is capable of treating colored tattoos and removing ink, which can be extremely challenging with older technology. It is also capable of delivering far faster treatment times while reducing risk to patients. "Our primary goal is to educate the clients and maintain complete transparency about the treatments they will receive," Dr. Soni added.
The Picosure system works best on dark ink, such as blue, black, purple and green, but it can also be used to remove lighter colored ink. The procedure involves no downtime, and the results are permanent. The effectiveness in laser tattoo removal for NJ patients is 95%, with minimal risk of scaring, creating a safe, effective solution.
To learn more about Picosure laser tattoo removal, visit http://www.MyEthosSpa.com.
About Ethos Spa, Skin and Laser Center: Ethos Spa, Skin and Laser Center is a practice comprised of physicians, physician assistants and skin care specialists. The practice is committed to providing the latest technology and skin care, and delivers services including laser hair removal, skin resurfacing, chemical peels and injectables, such as Botox.
Contact: Donna Albanese, Spa Director
Name: Ethos Spa, Skin and Laser Center
Phone: 908-273-5400
Email: Info(at)MyEthosSpa(dot)com
Web Address: http://www.MyEthosSpa.com
Source: Donna Albanese