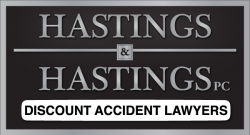 Phoenix, AZ (PRWEB) May 31, 2015
Hastings and Hastings is proud to reaffirm their effort to bring justice to the valley for victims of slip and fall accidents. A slip and fall case falls under the broad practice of personal injury. If one is injured as a result of a property owner's negligence, then one is entitled to file a slip and fall claim for damages.
In order to pursue a successful slip and fall suit, it must be shown that a person was injured as a result of slipping, tripping, or falling. It also must be shown that the injury resulted from the negligence of a property owner. This is more difficult than it seems, because defining the parameters of negligence can be a difficult endeavor.
"In Law School, students learn about the banana peel scenario when dealing with personal injury. If someone slips and falls on a banana peel, the color of the peel is essential for determining negligence. If the peel is bright yellow, chances are negligence is out of the question. It means that the peel is fresh, and thus, not enough time has passed to establish negligence. But, if the peel is brown, then proving negligence is feasible. It means that the peel was left on the floor for too long, someone should have picked it up to avoid an unfortunate accident," said Ashley Crowell, attorney at Hastings and Hastings.
Indeed, Slip and Fall accidents can be a devastating event, worthy of generous compensation.
As a general rule of thumb, it is always best to immediately contact an attorney when you're involved in an accident. Also, make sure you secure medical assistance immediately. If you were accompanied by a friend or family member during the accident, ask them to take pictures of the accident scene. It's also helpful to secure any maintenance records the property owner might have. However, usually your attorney will handle this.
Hastings and Hastings has over 150 years of combined experience. Their attorneys have dealt with a countless number of Slip and Fall accidents, and have won several $2,000,000 cases in court. It is best to consult a professional, experienced attorney after being victimized by negligence. Hastings and Hastings is a safe bet for fighting for all the compensation you deserve. Call today for a free consultation.