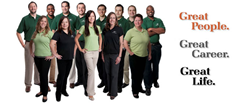 Warady & Davis people are passionate about what they do and are committed to each other and our clients.
Deerfield, IL (PRWEB) May 28, 2015
Warady & Davis LLP, Chicago CPAs & Consultants, has been named one of the best places to work for millennial employees in America, Rick Franklin, CPA, Co-Managing Partner announced today. The list, which comes on the heels of news that Millennials are now the largest workforce in America, is the first of its kind to identify companies that excel at recruiting, developing and retaining top millennial performers.
The full list of the Best Places to Work for Millennials and accompanying paper Unlocking Millennial Talent is available at http://bestplacestoworkmillennials.com/.
"Our professionals range in age from college age interns to professionals age 65+," says Franklin. "Each person, regardless of career stage or position, is an invaluable part of the W&D family and plays a key role in the success of our clients and the firm. Together we create an exceptional, cohesive team of people who are passionate about what they do and are committed to each other. In turn, we provide a collaborative environment where team members are respected, valued and challenged to achieve their full potential, adds Franklin. Millenials currently represent more than 30% of Warady & Davis' firm members.
To find the best places to work for Millennials, The Center for Generational Kinetics partnered with the workplace excellence research firm Best Companies Group, who manages over 50 "Best Places to Work" programs around the globe. BCG analyzed data from the over 4,000 US organizations that participated in BCG's various programs. BCG included policy and benefit offerings from the employer questionnaires, as well as the employee engagement data from the over 500,000 employee surveys conducted in the last 12 months.
Warady & Davis LLP's millennial employees cited a variety of reasons for job satisfaction including feeling a part of a team; that their contributions are appreciated, valued; and that the work they do makes a difference. Comprehensive training and professional development through W&D University, the family like atmosphere, and fun activities were also mentioned.
"We have some great examples of how we engage our millennial employees in firm management," said Jo Ann Porter, CPA, Partner and Managing Director of Human Capital with Warady & Davis. "When staff wanted to revise the firm's bonus program, we replied, Great! Tell us how you would change it. Staff formed a committee to redesign the program, presented their ideas to Warady & Davis LLP's management team and their plan was put into place," said Porter. "Staff also designed our coaching/mentor program, redesigned our performance evaluations and more," she adds.
Quality of Life is a major issue in the deadline intensive public accounting firm environment. In addition to generous paid time off, flexible scheduling, fun outings year round and teamwork activities throughout tax season, W&D is also very family friendly, volunteers in the community and supports a variety of charitable initiatives.
As part of developing W&D's professional staff, the firm has an intensive internship program for accountancy students in their senior and master program years designed to help them gain knowledge, earn scholarships, significant compensation and more. "The vast majority of our interns join us on a full-time permanent basis upon graduation," adds Porter. "We start investing in them during intern year one and continue throughout their careers," she adds.
About Warady & Davis LLP: Warady & Davis LLP, a top 20 Chicago area certified public accounting & consulting firm, provides a full range of audit, accounting, tax and consulting services and solutions to privately-held businesses, owners, high net-worth individuals and their families. W&D serves clients in a wide variety of industries located in the state of Illinois, throughout the United States and their interests abroad. Client revenues may range from start-up enterprises to $500,000,000+ in annual revenue.
Warady & Davis LLP is proud to be a national "Millennials Best Places to Work," a "100 Best Accounting Firms to Work for 2014" nationally by Accounting Today and a "Best Place to Work in Illinois 2015" by The Daily Herald and Best Companies. Learn more at http://www.waradydavis.com.
About The Center for Generational Kinetics: The Center for Generational Kinetics is the global leader in teaching companies to better employ and sell to Millennials. The Center leads original research that uncovers new Millennial and generational trends in the workplace and marketplace. The Center solves millennial challenges through research, speaking and consulting. The Center's clients range from industry leaders such as Mercedes-Benz and Four Seasons Hotels to venture-backed technology startups. The Center works with over 120 clients per year. Learn more about The Center and its mission to bridge generations at http://www.GenHQ.com.
About the Best Companies Group: Best Companies Group works with national and local partners around the country and internationally to establish and manage "Best Places to Work," "Best Companies," and "Best Employers" programs on a national, statewide, regional and industry basis. Through its thorough workplace assessment, utilizing employer questionnaires and employee-satisfaction surveys, BCG identifies and recognizes companies who have been successful in creating and maintaining workplace excellence.