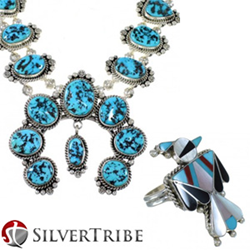 Turns out, this summer's emerging trend in festival fashion is a lot of turquoise, a lot of silver and a lot of attitude.
(PRWEB) May 28, 2015
With Coachella and Stagecoach partiers kicking off their cowboy boots to rest, the summer music festival scene has only just begun. Stars like Ashton Kutcher, Alessandra Ambrosio, Reese Witherspoon, and Kendall Jenner all sported a version of Native American chic or Southwest style at these events. Turns out, this summer's emerging trend in festival fashion is a lot of turquoise, a lot of silver and a lot of attitude.
The Buckle Situation. The basic belt buckle has received an infusion of stones and styles this season. Most noted at recent events were buckles featuring eagles and longhorns. Although these symbols never go out of style, the look can be updated to incorporate the turquoise trend. "Pair a Southwest turquoise and silver belt buckle with your favorite bootleg jeans or denim cutoffs for a twist on a standard style," says SilverTribe.com spokesperson Chris Anderson. Belt buckles are not just for men either. Kendall recently sported a concho belt with a long skirt and crop top at Coachella.
Light As A Feather. One of the emerging trends in festival fashion is jewelry featuring feather shapes or charms. This shape has been featured in Native American and Southwest jewelry designs for decades and represents the Creative Force. The current trend shows the variety of ways this symbol can be worn, from a straightforward Navajo feather necklace mixed with beads to a less obvious multicolor Southwest feather bracelet, this symbol can easily accent or take center stage this summer.
The Native Path. This summer's trendsetters are already out with their layered turquoise bead bracelets and squash blossom necklaces. "Authentic Native American jewelry really adds depth to personal style," says Anderson. "Every Native piece at SilverTribe.com is handmade by a Native American artisan so the jewelry comes with centuries of tradition, culture and craftsmanship. Add a Zuni ring to your outfit and see how many conversations it starts."
Listen To The Fashion Beat. Summer and music festivals seem to inspire the bohemian in everyone. Stars were seen with their usual coifed locks hanging loose and long. A peek behind their manes revealed there's no fuss at festivals with dangle or hoop earrings as it seems everyone opted for studs. Whether it was a speck of silver, onyx, or turquoise, all the stars opted for simple this season.
The Beads Have It. Whether the look said Bohemian, country, or Native American, the beads are the go-to jewelry accessory this summer. "Maybe because it echoes the feeling of the ocean, of nature, or of history," explains Anderson, "whatever the reason, beads are a great way to accent any summer look and give it raw beauty."
View the best summer festival styles of turquoise and silver jewelry at SilverTribe.
About SilverTribe.com
SilverTribe.com is the online leader in Southwest-inspired jewelry and accessories including necklaces, rings, earrings, pendants, bolo ties, and more. SilverTribe.com ships to all 50 states and supplies some of the most affordable sterling silver jewelry available. SilverTribe.com carries modern twists on Southwest styles as well as authentic Navajo, Hopi, and Zuni pieces made by Native American artisans. For more information, visit SilverTribe.com.