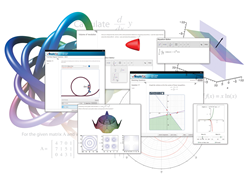 Waterloo, Canada (PRWEB) May 28, 2015
Maplesoft's annual international Maple T.A. User Summit is to be held in New York City from June 15 to 17, 2015. The Summit will bring together Maple T.A. users and experts to discuss and deliberate on trends in online STEM education, and technology platforms suitable to move courses, homework and tests online. Attendees will hear from pioneering users in e-learning who have successfully implemented these technologies.
The Summit will also provide an opportunity for attendees to network with other educators, hear from long-time users of Maplesoft's testing and assessment tool, Maple T.A., learn about the latest features in the product, and receive comprehensive training from product developers.
The keynote speakers at this year's event represent the University of Waterloo and the Mathematical Association of America (MAA). The University of Waterloo has completed groundbreaking work in using technology tools to offer online courses and programs for students. Earlier this year, UW and Maplesoft jointly announced the launch of an open online secondary school courseware site for high school students, which is freely accessible to students and teachers worldwide. The MAA's research into learning and effective curriculum has provided outstanding content that, when paired with Maplesoft's delivery system, results in online placement tests that make it easy to place incoming students in the right level of math courses, giving students a smooth transition into university academics.
Maplesoft has, for nearly 30 years, developed and refined technology tools that aid in improving teaching and learning. Jim Cooper, President and CEO of Maplesoft, will outline the company's vision for the use of technology in education, with particular focus on Science, Engineering and other Math based technical courses. Maplesoft developers will showcase the company's technology tools and provide a peek into what is on the roadmap. User presentations from diverse regions such as US, Canada, Italy and Netherlands will illustrate how leading universities around the world have taken advantage of Maplesoft technology to improve teaching, enhance student learning and enrich classroom experiences.
"Technology savvy students and incredibly easy to use technology tools are steering schools and faculty to offer courses in an online environment," said Cooper. "Increased number of students, blended learning environments and reduced cost are reasons to consider and choose e-learning opportunities. Maplesoft continues to empower educators to succeed in this new teaching environment through technology tools for interactive classrooms. Maplesoft's technologies allow students to explore rich online math-based visualizations and applications, and test their knowledge with intuitive tools that understand mathematics. The Maple T.A. Summit will be a perfect venue to hear how students and educators are quickly adapting these technologies and listen to their vision for their classrooms. "
The complete agenda, registration form and additional event details can be found here: https://webstore.maplesoft.com/taconference/. Volume discounts apply; please email customerservice(at)maplesoft(dot)com.
About Maplesoft
Maplesoft™, a subsidiary of Cybernet Systems Co., Ltd. in Japan, has over 25 years of experience developing products for technical education and research, offering a solution that applies to every aspect of academic life. Its product suite reflects the philosophy that given great tools, people can do great things.
Maplesoft's core technology is the world's most advanced symbolic computation engine, which is the foundation for all of its products, including Maple™, the technical computing and documentation environment; MapleSim™, the high-performance, multi-domain modeling and simulation tool for physical systems; and Maple T.A.™, a web-based system for creating and assessing online tests and assignments.
Maplesoft also introduced a fundamental shift in technical education through its Clickable Math™ and Clickable Engineering™ initiatives. The idea behind this shift is to create technology that will allow students and teachers to focus on the concepts, not the tool. These initiatives deliver powerful mathematics through visual, interactive point-and-click methods in Maple, while the intuitive physical modeling environment of MapleSim helps teachers to quickly demonstrate the connection between modeling concepts and the underlying mathematical theory.
Over 90% of advanced research institutions and universities worldwide, including MIT, Stanford, Oxford, the NASA Jet Propulsion Laboratory, and the U.S. Department of Energy, have adopted Maplesoft solutions to enhance their education and research activities. In industry Maplesoft's customers include Ford, Toyota, NASA, Canadian Space Agency, Motorola, and DreamWorks, covering sectors such as automotive, aerospace, electronics, defense, consumer products, and entertainment.
Visit http://www.maplesoft.com to learn more.
About Cybernet Systems Co., Ltd.
CYBERNET SYSTEMS in Japan provides world-class solutions and services in the CAE and IT areas. For more information, visit http://www.cybernet.co.jp/english/