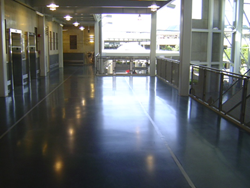 Florothane MC/HT and FloroTint offer low emissions installation with virtually no odor and the competitive advantage of installing either a high gloss or satin finish, in clear or pigmented, using a single urethane resin.
Chicago, IL (PRWEB) May 27, 2015
Florock® Polymer Flooring, manufactured since 1952 by Crawford Laboratories, Inc. of Chicago, introduces the latest products to emerge from its Research and Development Department -- New Florothane MC/HT High Performance Gloss and Satin Urethane and the FloroTint Colorant line. The uniquely innovative system allows a variety of different "looks" and finishes to be conveniently created using a single moisture cure urethane resin base – a competitive advantage in today's fast-paced business environment. With Florothane MC/HT, Florock's Approved Contractors can quickly accommodate commercial, industrial and institutional facilities' desire for high gloss or satin, clear or pigmented flooring, and can remain flexible and prepared, even as customers communicate eleventh hour changes.
In addition to increased convenience, Florothane MC/HT and FloroTint perform, thanks to superior hardness and the ability to withstand exposure to many chemicals and solvents. Outstanding durability and resistance to scratches and stains, including short-term betadine stain resistance, contribute to the products' suitability in healthcare, education, manufacturing and other high traffic locations. For occupied or otherwise sensitive facilities, the products' IAQ (Indoor Air Quality) benefits, including very low emissions and nearly odorless installation, are of special interest. As with all Florock flooring products, Florothane MC/HT and FloroTint comply with USDA requirements for incidental food contact and offer completely customizable slip-resistance in accordance with individual facility needs. The end result is a beautiful, safe and long-wearing concrete floor finish that is easy and inexpensive to maintain, furnishing outstanding life cycle value.
When asked why new Florothane MC/HT and FloroTint were developed despite the many high performance urethane floor finishes already included in the Florock line, David Schmetterer, Florock President, replied, "We seek out every opportunity to give our Approved Florock Contractors a competitive advantage. Today's marketplace demands that we all remain nimble and ready to switch gears if the customer requires it. New Florothane MC/HT and FloroTint, with their design and installation flexibility, enable us to do just that."
Experienced Florock Representatives are available throughout the U.S, Mexico and the U.K. Call 1-800-FLOROCK (1-800-356-7625) to find one near you.
ABOUT FLOROCK®, MANUFACTURED IN THE U.S.A. BY CRAWFORD LABORATORIES, INC. — Serving facilities nationwide, Crawford Laboratories, Inc., is a respected leader in the manufacture, research and development, and installation of solutions-oriented concrete floor coatings and toppings. Independently owned for over 60 years, headquartered in Chicago, Illinois, USA, with stocking locations in California and the United Kingdom, Crawford Laboratories was founded on the principles of cutting-edge technology, innovation and impeccable integrity. Please visit http://www.florock.net to learn more.