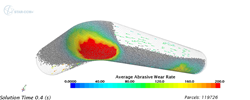 For CD-adapco, joining the consortium with PSRI initiates a new course into the area of particle flow simulations.
New York and London. May 28, 2015 (PRWEB UK) 28 May 2015
CD-adapco, the largest privately held CFD-focused provider of Computer Aided Engineering software, announced today it is joining the consortium with Particulate Solid Research, Inc. (PSRI). CD-adapco will provide state-of-the-art engineering simulation tools for analyzing particle flow, and PSRI members will share their expertise and experiences in analyzing particle flow that will help other chemical and refining industry members and advance the understanding of flow modeling solutions.
For over 35 years, CD-adapco has been providing solutions to solve some of the most challenging engineering problems. Of particular importance is the discrete element method (DEM) for simulation of particle flow coupled with fluid flow. For CD-adapco, joining the consortium with PSRI initiates a new course into the area of particle flow simulations.
"We feel that joining this consortium with PSRI gives us access to their expertise as well as the opportunity to leverage our technology in such a way that we can advance the understanding of particle flow physics for the member companies, and the industry as a whole," said Ravindra Aglave, Director – Chemical Processing, CD-adapco.
PSRI is an international consortium of companies focused on research in the fluidization, solids transport, and other fluid-particle areas that span the petrochemical, chemical, energy, mining and materials industrial sectors. For over four decades, PSRI has amassed an extensive amount of design data on all aspects of fluidization, entrainment, pneumatic conveying, attrition, distributor design, standpipes, solids transfer, and circulating fluidized beds using a state-of-the-art research facility that emphasizes large-scale equipment.
PSRI has and continues to use the fundamentals to develop design correlations and techniques that are among the best and most useful in the field. PSRI is driven in applying these fundamentals toward commercial success.
"We are excited about our new relationship with CD-adapco, as they have the tools for us to better understand how particles interact with fluid and with each other," said Dr. Ray Cocco, President and CEO of PSRI. "It will provide us with the fundamental physics needed for commercial applications."
With over 30 years of experience in delivering industrial strength engineering simulation, sustained engineering success is a CD-adapco objective. The company's primary goal is to help its customers succeed through the application of engineering simulation, driving innovation in their products and reducing the engineering time and cost associated with bringing those products to market.
About CD-adapco
CD-adapco (http://www.cd-adapco.com) is the world's largest independent CFD-focused CAE provider. Our core products are the technology-leading simulation packages, STAR-CCM+ and STAR-CD. The scope of our activities, however, extends well beyond CFD software development to encompass a wide range of CAE engineering services in fluid dynamics, heat transfer and structural engineering. Our ongoing mission is to "inspire innovation and reduce costs through the application of engineering simulation software and services."
A privately owned company, CD-adapco has maintained 15% organic year-on-year growth over the last 5 years. CD-adapco employs 900 talented individuals, working at 40 different offices across the globe.