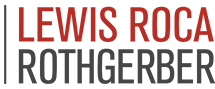 "The common-sense opinion in this case will result in school officials better able to more fully respond to public records requests relating to ongoing matters such as current litigation," said Chris Thomas, GC for Arizona School Boards Association (ASBA)
Phoenix, Arizona (PRWEB) May 28, 2015
Lewis Roca Rothgerber LLP proudly announces that the Arizona Supreme Court this week let stand a precedent-setting published opinion by the Arizona Court of Appeals in favor of Peoria Unified School District in the matter of Timothy McKee v. Peoria Unified School District, 1 CA-CV 13-0374, which clarifies the obligations of public entities to respond to public records requests. On May 26, 2015, the Arizona Supreme Court denied McKee's petition for review, thereby finalizing the appellate decision as precedent.
Phoenix partner Mary Ellen Simonson served as lead trial counsel and partner Kimberly Demarchi argued the appeal on behalf of the district. The case involved former PE teacher McKee's public records request after the district began proceedings to terminate his employment when a student with limited swim abilities drowned during a crowded free swim period under McKee's supervision.
"The Court of Appeals decision provides welcome guidance on several important aspects of our public records law," said Simonson. "While this was a well-deserved victory for Peoria Unified School District after nearly five years of litigation, every public agency in Arizona will benefit from this opinion because, among other things, it clarifies the 'prompt' requirement in a practical way and does not penalize public employees for innocent mistakes if immediately corrected."
According to the published opinion, the Court of Appeals concluded the superior court improperly assessed the "promptness" of the district's response, reversing the trial court and clarifying the Arizona Public Records Statute in multiple significant ways, including that there was no obligation to do a rolling response by immediately producing an easily accessed document before all requested documents were compiled, reviewed and redacted. Records indicate that the Court also found that a quickly-corrected mistake in initially omitting some documents did not undermine the overall reasonableness and promptness of the district's response, and that a public entity has no obligation to disclose that a document not its own public record or in its possession was in the custody of another public agency.
McKee sued Peoria Unified School District, claiming the district did not provide public records that could have aided his defense at his termination hearing in a timely manner. However, in its decision, the Court of Appeals found "that the district acted reasonably and promptly in its efforts to respond to McKee's request" and criticized McKee's "conflation of the public's right to public records and his litigation-based discovery needs."
"The common-sense opinion in this case will result in school officials better able to more fully respond to public records requests relating to ongoing matters such as current litigation," said Chris Thomas, General Counsel and Director of Legal and Policy Services for the Arizona School Boards Association (ASBA). "School officials would like to be responsive to public records requests and know that they hold the public trust, but they need to have all the information necessary before being compelled to respond in order to ensure fairness to all during the process. ASBA thanks Peoria Unified and its attorneys at Lewis Roca Rothgerber for their work in getting this great outcome for the public and all our ASBA members."
The district's appeal was supported by "friend of the court" amicus briefs from the ASBA, State of Arizona, Arizona Municipal Risk Retention Pool and Arizona School Risk Retention Trust. A separate unanimous opinion from the Court of Appeals in September 2014 upheld McKee's December 2010 termination by the governing board.
About Lewis Roca Rothgerber LLP
Lewis Roca Rothgerber LLP is one of the largest law firms in the Western U.S. The firm maintains thriving practices in litigation, real estate, business transactions, intellectual property, regulatory affairs, gaming, banking, bankruptcy and energy and natural resources with more than 250 attorneys across nine offices in Phoenix, Albuquerque, Casper, Colorado Springs, Denver, Las Vegas, Reno, Silicon Valley and Tucson. For additional information, please visit http://www.LRRLaw.com.