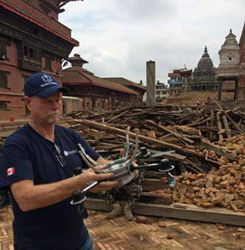 BELLINGHAM, Washington, USA (PRWEB) May 27, 2015
When a natural disaster strikes, humanitarian responses often take time to find their most effective targets. With infrastructure damaged or destroyed, it's a challenge for aid to reach the people who need it the most. In the recent Nepal earthquakes, new tools based on photonics technologies have helped to speed that response.
An article just published online in SPIE Newsroom explores some of the rapid-response technology that has helped to locate people trapped by the earthquake, survey damage, and map the land to identify where it has moved.
Using images from satellites in space and low-flying drones, relief groups have been able to prioritize deliveries of food, water, and other assistance to areas where it is most needed. Crowdsourced comparisons of before-and-after images have managed to identify and tag thousands of damaged buildings, roads, and other infrastructure. People around the world have helped with this effort just by spending time at their computers, using a platform called Tomnod from DigitalGlobe.
In the article, DigitalGlobe research scientist Georgios Ouzounis said that the company's recently launched WorldView-3 satellite was able to play a key role in providing images, as Nepal was within its field of view. The images collected have a resolution as high as 30 centimeters.
Writer Rebecca Pool, who researched the article for SPIE Newsroom, said that besides the humanitarian response, the speed and breadth of the technological response was impressive.
"I was amazed at how quickly information was made publicly available," she says. "People heard about the disaster and immediately knew they had technology and information to help, and they did."
The article, "Photonics technologies are first responders to Nepal earthquake," appears on SPIE Newsroom at http://www.spie.org/Nepal. It is accompanied by a photo gallery and a short video, and links to organizations mentioned in the article.
About SPIE
SPIE is the international society for optics and photonics, a not-for-profit organization founded in 1955 to advance light-based technologies. The Society serves nearly 264,000 constituents from approximately 166 countries, offering conferences, continuing education, books, journals, and a digital library in support of interdisciplinary information exchange, professional networking, and patent precedent. SPIE provided more than $4 million in support of education and outreach programs in 2014. http://www.spie.org