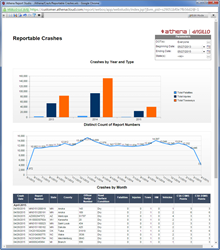 PORTLAND, OREGON (PRWEB) May 28, 2015
Vigillo LLC, creators of the transportation industry's most advanced big data and data mining software products, today announced that it has released the first of Athena's second generation of reporting tools.
"We developed Athena to be the hub of all data that is critical to trucking," said Steve Bryan, CEO of Vigillo. "This next generation of reporting tools is giving our customers even more flexibility and ease to take the huge volume of data we have aggregated in the Athena data warehouse and report on it effectively."
The first of these next generation reports is focused on DOT Reportable Crashes, with an enhanced Inspections and Violations Report due out in June. Every reportable crash since 2009 for every DOT# that operates in the United States is available through this new reporting structure.
The new reporting tool allows customers to "pivot" their Athena Reports to change the analysis from time, to location, to road conditions to driver, to vehicle, to crash outcome and dozens of other dimensions with just a right click of the mouse.
"Spreadsheets are a great tool", stated Bryan, "but Excel only supports 1,048,576 rows, yet data is being streamed in to Athena by the tens of millions of records. Athena's new reporting structure will handle billions of rows of data. Exploring Big Data has never been this easy."
About Vigillo LLC
Vigillo was founded in 2007 by a team of data scientists and software engineers specializing in the Big Data that flows from hundreds of sources within the commercial transportation and logistics industry. Wisdom is delivered through scorecards and interactive dashboards designed for professionals who tackle the complexity of the US supply chain every day. Vigillo's Big Data platform, Athena, is the hub of all commercial transportation and logistics data from public and private sources and its suite of CSA Scorecards is the number-one CSA reporting system in the industry. For more information on Portland, Oregon-based Vigillo, visit http://www.vigillo.com.
Follow us on:
Facebook - https://www.facebook.com/Vigillo
Twitter - https://twitter.com/vigillo
YouTube - http://www.youtube.com/user/Vigillo
Media Contact:
Susan Fall
LaunchIt Public Relations
858-490-1050
susan(at)launchitpr(dot)com