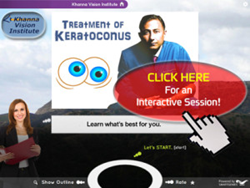 Keratoconus interactive tour is like a genie. It answers your questions regarding treatment of keratoconus.
Beverly Hills, CA (PRWEB) May 28, 2015
The Khanna Vision Institute announced the launch of a novel interactive keratoconus web application to make learning about treatment of keratoconus fun. Treatment of Keratoconus has expanded in the last few years. This proliferation of treatment techniques has not reached the masses. Even eye doctors are not aware of the nuances of the cutting edge technologies. Dr.Khanna, medical director of the Khanna Vision Institute, realized that websites can be boring and printed material can be onerous for both doctors and lay people. Hence, an interactive application was conceived. Patients and technicians have loved this novel approach.
Keratoconus, or bulging eye disease, is sight threatening. Left untreated, it can lead to a rupture of cornea or the clear front part of the eye. Better detection techniques have yielded more people suffering from this relentless eye condition. It's also sad that this disease affects teenagers. Rapid intervention with corneal cross linking can save eyesight and careers.
The Khanna Vision Institute is located in Beverly Hills with various satellites to help patients suffering from keratoconus. Dr. Khanna is a Keratoconus expert. He has been helping patiens suffering keratoconus for over two decades.He has pioneered the age based treatment strategy for treatment of keratoconus.