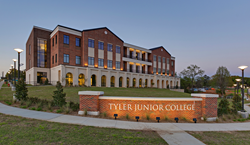 The new center provides additional programs that will produce a projected 50 percent increase in TJC health professions graduates.
Tyler, Texas (PRWEB) May 28, 2015
The $47.5 million Robert M. Rogers Nursing & Health Sciences Center at Tyler Junior College (TJC) has reached construction completion. SmithGroupJJR provided campus planning, architecture, engineering, interior design, lab planning and landscape design services.
The 137,000-square-foot facility triples the classroom and laboratory space in comparison to the former outdated facilities from the 1950s and 60s, located across campus in numerous buildings such as the Aleck Genecov Science and Arts Building and the George W. Pirtle Technology Center. The new center provides additional programs that will produce a projected 50 percent increase in TJC health professions graduates, meeting the needs of the growing industry in East Texas. Added programs accommodate a new dental clinic operating as both an educational space and a community dental clinic, a new campus health clinic, as well as physical therapy, occupational therapy and personal training labs.
"This facility marks a new era of health science education for Tyler Junior College," said Jay Rambo, AIA, LEED AP, office director for SmithGroupJJR's Dallas office.
The nursing and health science labs utilize the latest trends in technology and flexibility to create a learning environment that meets the demands of students today and in the future.
In 2012, SmithGroupJJR provided campus planning services to determine the most appropriate use of newly acquired land that expanded the campus' western edge. TJC selected the land for the construction of the new Nursing & Health Sciences Center in order to position the facility close to the neighboring hospital district, strengthening the synergies between education and the real world. SmithGroupJJR then provided comprehensive architecture and engineering services for the iconic facility. Construction commenced in fall 2013.
"The facility is just incredible," said Tyler Junior College President Dr. Mike Metke. "The students have told us how proud they are to have such a wonderful place to call home."
As one of the oldest junior colleges in Texas dating back to the 1920s, TJC strives to maintain its tradition of collegiate Georgian architecture. Red brick, light masonry, and dark metal roofs reflect the language established by previous campus projects. The materials unify the range of university buildings while aesthetically connecting the new health sciences precinct to the main campus to the east.
The center was funded with a $25 million bond issued by the voters in May 2012, along with a generous gift from the Rogers Foundation.
For the project, SmithGroupJJR partnered with the architecture firm of Eubanks Harris Roberts Craig, Tyler, Texas, which assisted with construction documentation and administration. A joint venture of HGR+Turner served as the construction manager-at-risk.
Tyler Junior College (http://www.tjc.edu) is a public comprehensive community college located in the heart of the Piney Woods of East Texas, approximately 100 miles east of Dallas and 90 miles west of Shreveport, Louisiana. The College was established in 1926 with a mission of providing the finest academic education for freshmen and sophomore students. TJC offers 45 associate degree options and 35 certificate options. Annual enrollment currently stands at 11,500 undergraduate students with an additional 20,000 continuing education students.
SmithGroupJJR (http://www.smithgroupjjr.com), is an integrated architecture, engineering and planning firm ranked Top 10 in the U.S. by Building Design + Construction magazine. It is recognized for its design of educational spaces within academic medical, nursing, dental and health sciences schools and hospitals to accommodate next-generation innovations in healthcare delivery and education. SmithGroupJJR boasts a portfolio of more than 30 nursing and allied health facilities, which includes the Oakland University Human Health Building, Rochester, Michigan; Texas Tech University Health Sciences Center F. Marie SimLife Hall, Lubbock, Texas, and Texas A&M Corpus Christi Nursing, Health Science and Kinesiology facility. SmithGroupJJR works with many of the leading Academic Medical Centers in the U.S., implementing a strategic value planning process that combines campus, facility and program scenario planning.