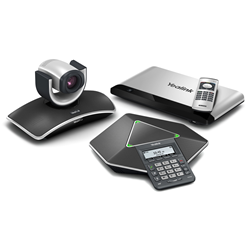 By providing demo kits, TriTech gives the Milwaukee Metropolitan Area the freedom to test out a new, state-of-the-art video conferencing system with no risk.
Waukesha, WI (PRWEB) May 29, 2015
TriTech Corporation is now providing free demo kits of the brand new Yealink VC400 Video Conferencing System to businesses in southeast Wisconsin. Coming with multipoint codec and 1080p30 HD video camera, these demo kits give curious companies a risk-free trial of Yealink's dynamic video conferencing solution.
TriTech is the leading dealer and integrator of video conferencing equipment in the Greater Milwaukee Area. Based in Waukesha, WI, TriTech has been installing and supporting video conferencing systems since 2002. Their authorized technicians and engineers bring extensive industry experience to every installation and integration.
TriTech serves local businesses of all sizes. Video conferencing has been predicted to replace email and phone as the most common way for businesses to collaborate by as soon as next year. So TriTech is giving Wisconsin organizations a convenient, stress-free method to assess the dynamic, new Yealink VC400 video conferencing system.
Each demo kit contains a fully operational Yealink VC400 system: VC400 Codec, VCC18 HD Camera, VCP40 Video Conferencing Phone, VCR10 Remote Control and all necessary cables, adapters and manuals.
Upon providing a deposit, the interested company will have 2 weeks to evaluate the VC400 system. When returned, the company will receive their full deposit back, minus any damages if applicable. The demo kits are in excellent condition and are composed of previously used systems.
The Yealink VC Room System marks the entry of the world's second largest producer of VoIP phones into the video conferencing market. The VC400 Codec provides multipoint control for up to 4 parties in full 1080p HD video, with control for up to 8 parties in 720p HD video forthcoming. The VCC18 Camera takes video in 1920x1080 resolution at 30 fps with 18x optical zoom and full pan-tilt-zoom functionality.
With their first video conferencing series, Yealink is emphasizing a robust and economical product that provides high-quality picture and sound without breaking the bank. Yealink does not charge any additional fees for dual-screen support or multipoint control, nor do they require maintenance contracts.
A video conferencing system is a significant investment for a business. Video conferencing is an essential component of the modern office. By providing demo kits, TriTech gives the Milwaukee Metropolitan Area the freedom to test out a new, state-of-the-art video conferencing system with no risk.
To inquire about this excellent opportunity, contact TriTech Corporation by phone at (262) 717-0037 or (800) 891-3388 or by email at service(at)tritechcoa(dot)com. For more information, visit Tritech's website.
About TriTech Corporation:
TriTech Corporation is Wisconsin's source for integrated information technology services. Founded in 1993, we focus on helping local businesses increase productivity and reduce overall expenses through using the right technology. Our certified technicians bring years of experience and proven accountability to every project. We believe that providing integrated services is the best way to save you time and money. It's simple and stress free. We take the guesswork out of IT, because we do it all.
About Yealink:
Yealink is a leading provider of unified communications solutions. Yealink helps every size of enterprise with their complete portfolio of business products, including video conferencing systems, conference phones, VoIP phones and more. Customers from around the world enjoy the reliable and economical services that Yealink provides.