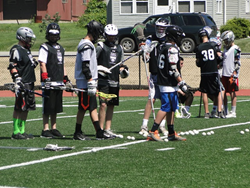 Coach Chris Spahn said, "The lacrosse camp is fun for all skill levels. The camp provides opportunities to make friends while improving your lacrosse skills."
Saltsburg, PA (PRWEB) May 28, 2015
The lacrosse day camp will be held on Monday, June 15 through Friday, June 19, 2015 from 9 a.m. to 4 p.m. for boys ages 10-14. Each camper will receive lunch in the Kiski Dining Hall, a Kiski water bottle and a camp tee shirt. The overnight lacrosse camp begins Monday, June 22 through Friday, June 26, 2015, for boys ages 10–14. The overnight camp includes breakfast, lunch, dinner, boarding accommodations, Kiski water bottle and camp tee shirt. Registration can be completed online at https://kiski.myschoolapp.com/Page/About-Kiski/Summer-Programs/Sports-Academy/Registration--Payment?siteId=618&ssl=1.
Kiski Athletic Director and Varsity Lacrosse Head Coach, Chris Spahn, has been with The Kiski School and the varsity lacrosse coach for the past 11 years. During those 11 years, the program has become one of the prominent programs in Western Pennsylvania and the Midwest. Last spring the team had the most wins (21), the most goals in a season (359), the most assists (249), most combined points (608), most ground balls (869), and the highest national ranking (46). In 2008 Kiski won the Western Pennsylvania Championship in only its fourth year as a varsity program. The same year, Coach Spahn was voted Western Pennsylvania's United States Lacrosse Coach of the Year. In 2004 he won the Eastern New England Coach of the Year and was the Head Coach of the east squad in the annual Division II New England Prep All Star game. He has more than 28 years of experience playing and coaching lacrosse.
In the summers he coaches youth travel programs and works at various lacrosse camps including those held at Notre Dame University, the University of Michigan, and others in Pennsylvania, while also coaching the 2018 3d Midwest team. Coach Spahn works closely with Kiski's College Counseling Office and college coaches to place Kiski's lacrosse players at the best suitable college or university. Kiski's recent graduates have gone on to play at The U.S. Naval Academy, High Point University, Canisius, Queens' University, Elmira College, Alfred University, Kenyon College, Elizabethtown, Western New England University, Middlebury, Haverford, Ithaca and Rochester Institute of Technology.
Rob Howard, Kiski's Assistant Lacrosse Coach will be helping at the camp. Coach Howard played at lacrosse at Skidmore College.
For more information about the lacrosse camps, please contact Chris Spahn at 724-858-0412 or by email at chris.spahn(at)kiski(dot)org.
The Kiski School is a national leader in educating boys. Founded in 1888, Kiski offers an exceptional boarding or day school experience to families in search of a highly personalized, challenging, and safe high school education for their sons. Located just 30 miles east of Pittsburgh on 350 beautiful acres, Kiski is a special place where boys engage their minds, focusing on schoolwork, sports and just being boys. Students receive a classic liberal arts education that mirrors the curricula of the nation's best universities, using innovative technology and hands-on learning techniques that nurture boys' curiosity, creativity, and confidence. The results speak for themselves: All Kiski graduates are accepted into four-year colleges or universities, 80 percent of which are at U.S. News and World Reports Top 100 institutions.