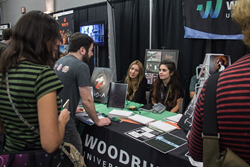 LOS ANGELES (PRWEB) May 28, 2015
Woodbury University today announced that its Animation Department and Bachelor of Fine Arts in Animation degree program ranked No. 14 among the Top 25 Animation Schools in the West and No. 45 among the Top 100 Animation Schools in the nation by Animation Career Review, an online resource for people who aspire to a career in animation; game design, development and art; graphic design; digital art; and related fields. Woodbury placed 31st among private schools and colleges nationwide.
At the same time, Animation Magazine (animationmagazine.net) has named Woodbury's Animation program to its list of the "Top 25 Schools You Should Hire From." The department will be included in Animag's substantial 250th issue, as part of a larger print feature celebrating 250 companies, executives, creatives, events, schools, agents and shows who will define the future of animation. The issue will have a custom cover image created by Pixar featuring characters from its new feature, "Inside Out."
The 2015 Animation Career Review rankings are based on the overall quality of the program, including technology and facilities available to students; consistency and quality of student and graduate animation works; proximity to employment opportunities; and reputation of the program in the industry. [The publication's Top 25 review of Woodbury's animation program can be found here: http://bit.ly/1B9XbwI .
A total of 68 students are enrolled in Woodbury's Animation program within the School of Media, Culture and Design (MCD), with coursework addressing hand-drawn and digital 2D animation, 3D computer animation and stop motion animation. Animation students have a new opportunity for transdisciplinary studies within MCD, working alongside cohorts in the Media Technology, Film and Game Art & Design departments.
"Video game development relies heavily on animation and technology, and game artists take a number of courses in animation," said Eddie Clift, Ph.D., dean of MCD, which offers a BFA degree in Film, and a bachelor of science degree in Media Technology. "We're now bringing the four disciplines together, in both creative input and execution. Working collaboratively, students can get their hands dirty, and experience what it's like to be on a cohesive team. That's one reason why we're honored but not entirely surprised at the Animation Magazine recognition."
Disciplines have to respect each other, said Dori Littell-Herrick, chair of the Animation Department, whose own credits include television shows, television commercials and motion pictures. "Students are learning the vocabulary, the techniques of the other skills within MCD," she said. "It's an internal translation – students are immersed in the technical underpinnings, which is all part of attempting to design your own career and expanding your network before you leave college. Our graduates greet the professional world with a uniquely informed perspective."
Woodbury is accredited by the National Schools of Art and Design (NASAD) and by the Western Association of Schools and Colleges (WASC).
About Woodbury University
Founded in 1884, Woodbury University is one of the oldest institutions of higher education in Southern California. It offers bachelor's degrees from the School of Architecture, School of Business, School of Media, Culture & Design, and College of Transdisciplinarity, along with a Master of Arts in Media for Social Justice, Master of Architecture (MArch), Master of Interior Architecture (MIA), Master of Science in Architecture (MSArch), and Master of Leadership. The San Diego campus offers Bachelor of Architecture and Master of Architecture degrees, as well as an MSArch degree with concentrations in Real Estate Development and Landscape + Urbanism. Woodbury ranks 15th among the nation's "25 Colleges That Add the Most Value," according to Money Magazine. Visit woodbury.edu for more information.