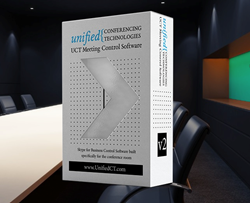 Combine Microsoft Exchange and Skype for Business in a dashboard that includes support for GoToMeeting, WebEX and virtually any web conferencing software.
Downingtown, Pennsylvania (PRWEB) July 07, 2015
Unified Conferencing Technologies, has released its latest version of Unyfy.
Unyfy is a powerful video conferencing and collaboration user interface offering a unified approach to online meetings in the conference room. Unyfy brings all your online conferencing providers under an easy to use interface.
Unyfy allows you to see your Exchange and/or Google calendar(s) from a single view. As users invite your Conference Room resources to meetings, the Schedule Bar automatically stays up to date and displays the upcoming meetings in easy to see and select format. You can then launch Microsoft Skype for Business/Lync, WebEx, GoToMeeting, Zoom and more, with a single click/touch.
Unyfy can be customized to the look, feel and brand of your organization.
Unyfy leverages deployment technologies that are designed to work in a corporate environment providing as much control to corporate administrators as possible.
Unyfy based systems are third of the cost of competing Microsoft Skype/Lync Room Systems.
You can download a Free 30 day Trial of Unyfy from Conference Room Systems
Unified Conferencing Technologies is a software developer focused on collaboration technologies and specifically the integration of multiple third party collaboration and calendaring providers into a simple to use yet powerful user interface. Any organization can obtain Skype for Business/Lync. Unified Conferencing Technologies enables organizations to both fully utilize the technology investment and realize true productivity gains. Please visit our website,unitfiedct.com
Conference Room Systems is a leading partner for Unified Conferencing Technologies. Conference Room Systems specializes in technology for the Conference Room and offers installation ready video conference systems pre-installed with Unyfy.
This software is also available through distribution from StarinAV and BnH Photo.