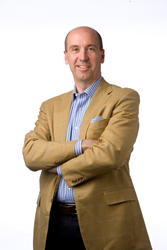 Future trends run the gamut from rapid healthcare diagnostic tools, to artificial intelligence masquerading as overly attentive personal assistants.
Minneapolis, MN (PRWEB) May 28, 2015
Global futurist and keynote speaker Jack Uldrich makes it a point to ask his audiences if they are ready for a wide variety of future trends including robotics, solar cells, fuel cells, rapid health care diagnostic tools, affordable gene sequencing, 3D printers, advanced battery storage technology, driverless cars, artificial intelligence masquerading as overly attentive personal assistants, and high-quality but inexpensive online education.
While the majority of organizations and audience members have heard of these things they are not necessarily embracing them. Jack Uldrich makes it a point to help prepare them for and leverage these futuristic tools to their advantage.
A highly innovative thinker and writer, Uldrich recommends his clients graph some of these trends, along with taking "think weeks," and utilizing reverse mentors.
Throughout the month of June Uldrich will discuss a variety of topics from future-proofing to the "Big AHA" (Awareness, Humility and Action --a concept Uldrich developed for leaders.) His engagements run the gamut from a major pharmaceutical company in New York, the Urban Land Institute Summit in Florida, to two energy related organizations in Minnesota and Pennsylvania.
Uldrich is confirmed as a keynote speaker at the following events:
June 2 (Private Pharmaceutical Client) Senior Leadership Meeting: New York, NY
June 4 ULI Florida Summit: Ponte Verde, FLA
June 8 APPA Annual Conference: Minneapolis, MN
June 24 SEE Annual Conference: Hershey, PA
Jack Uldrich is a renowned keynote speaker and the author of 11 books, including the award-winning bestsellers "The Next Big Thing Is Really Small: How Nanotechnology Will Change the Future of Your Business;" "Jump the Curve: 50 Strategies to Help Your Company Stay Ahead of Emerging Technology;" and "Higher Unlearning: 39 Post-Requisite Lessons for Achieving a Successful Future." Uldrich's most recent book is "Foresight 20/20: A Futurist Explores the Trends Transforming Tomorrow."
Parties interested in learning more about Uldrich, his upcoming engagements, books, or speaking can read more about him on his website.