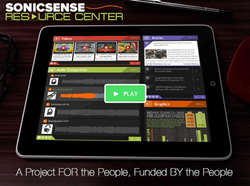 Empowering Online Shoppers to Decide for Themselves What's Best by Hearing How Audio Products Really Perform.
Sheridan, Colorado (PRWEB) May 28, 2015
Sonic Sense Resource Center helps audio enthusiasts and musicians make informed buying decisions, avoid buyer's remorse and save money. People can directly compare the performance of audio products including Noise Cancelling Headphones, Gaming Headsets, Speakers, and Musical Instruments from their computer or mobile device. The site empowers users to determine for themselves what best suits their personal tastes, applications, and budget.
SSRC co-founder, Marc Nutter states, "Users have reported finding lower-priced products that they prefer over higher-priced options. By running SSRC's Kickstarter campaign, the site can deliver more value by expanding the selection of product samples and adding categories including home and car audio.
"Support from the public through crowdfunding will show how much people value an unbiased platform that lets them hear how products really compare to one another without solely relying on opinions and marketing hype. The funds will go directly to increasing staff and acquiring product and systems to expand the product libraries."
The mobile-friendly, comparison site hosts nearly 2,000 high-resolution audio samples, interactive videos, infographics, and articles. The growing libraries currently include over 250 headphones, gaming headsets, speakers, studio monitors, microphones, audio interfaces, guitar pedals, drum effects, keyboards, and controllers.
Nutter continues, "The goal is to provide a near first-hand experience to site users. People need access to a wide product selection so they can evaluate products and select what is right for themselves. Long gone are the days of walking in to a store that has every product lined up and ready to audition. SSRC product libraries and comparison tools augment magazine reviews and online forums while helping stores support their customers' in the purchasing process. As a web app, it's already in everyone's pocket and it's fun to use."
Samples are created in controlled environments so items in each category can be compared side-by-side and referenced to a multi-genre source track. On this fully custom-designed platform, users can select the products they want to compare, the source material they want to hear, and share their customized comparison sets through popular social media channels and email.
While Nutter acknowledges Sonic Sense Resource Center doesn't fully replace listening in person, he explains, "The online auditioning process utilizes a neutral recording system and source files are provided whenever possible so users can get a good idea of the coloration/character that each product introduces on the audio source regardless of the playback system used."
SSRC utilizes DPA, Neumann and Sennheiser microphones, Grace Design preamps, Benchmark and Universal Audio digital converters for the recording process. Downloadable samples are recorded at 96kHz/24-bit and can be streamed through the custom-designed audio application in Sonic Sense Resource Center. SSRC's sister company, online retailer Sonic Sense Pro Audio, was founded in 1994 and provides an array of audio equipment and musical instruments available in turnkey packages.