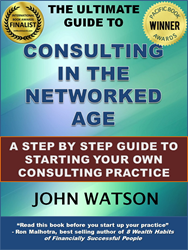 "Implement John's strategies and watch your business soar!" - Barbara Giamanco CEO of Social Centered Selling
Margate Beach, Queensland, Australia (PRWEB) May 29, 2015
The Ultimate Guide to Consulting in the Networked Age features articles contributed by leading business, marketing and sales authorities including: Kendra Lee, best-selling author of The Sales Magnet, Robert Klaric author of The Secrets of The Property Expert, and Richard DiPilla, Marketing Executive Berkshire Hathaway Media Group.
By reading this book entrepreneurs will learn the latest in business startup; sales prospect attraction, social media and social-selling strategies.
What people are saying about The Ultimate Guide to Consulting in the Networked Age...
"Packed with invaluable advice on getting started and measuring progress in building a successful consulting business over time. The presentation is easy to read and understand for novices or experienced business entrepreneurs."
Dr. Joseph S. Maresca
"Read this book before you start up your practice."
Ron Malhotra
"Whether you are just starting out or need to retool your current business processes, The Ultimate Guide to Consulting in the Networked Age is a must read. Implement John's suggested strategies and watch your business soar!"
Barbara Giamanco
"John has created a comprehensive, step-by-step manual for how to start and then run a successful consulting practice. He leaves nothing to guess work. This book is a must for anyone considering a consulting business!"
Melonie Dodaro
"I thought the book was very good for a number of reasons: it was understandable in terms of expression; simplicity yet comprehensive. This was a great strength or attribute; the way it was organised; the breadth of analysis; the references made gave it credibility; and it had a real focus. Best wishes for the publication."
Len Nixon
The Ultimate Guide to Consulting in the Networked Age is available from Amazon and popular retailers. Visit http://www.consultinginthenetworkedage.com and http://www.entrepreneursuccesspodcast.com to find out more!
About the Author
John Watson is the Founder of Entrepreneur Success Podcast Show and is a highly experienced investment management professional and founder of Margate Financial Research Solutions, providing cost-effective third party research, marketing, and business development services to leading financial market businesses. John is also a qualified business teacher in Queensland and New South Wales, Australia. On Entrepreneur Success Podcast show, John has conversations with world leading entrepreneurs, authors and social influencers.
John offers business coaching; sales training; strategic planning consulting; project evaluation; presentation skills and design training; social media strategies; and mentoring for small and medium sized businesses across all industries. John also offers online Entrepreneur Podcast Training to enable small and medium businesses to develop, launch, grow and monetize this dramatically growing new marketing channel that enables entrepreneurs to establish themselves as "go-to" thought-leaders in their fields.