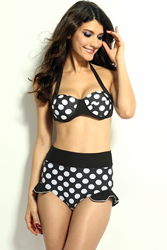 Putting Spanish speaking countries on our marketing map is the key to the globalization of our Brand in the world of online business
(PRWEB) May 28, 2015
OASAP is a high-street fashion brand that brings apparel with the latest fashion trending to women and girls around the globe, dedicated to the market of young women of age 15 to 30. This brand is wildly popular in US and EU region due to their extraordinary fashion taste for young females.
According to a reliable source, OASAP will launch their Spanish site by the end of this May. OASAP has always been globalizing their brand which makes this a logical next step for the company.
OASAP states in their latest press release that the Spanish market has always been a big part of the fashion business, especially for the past few years. The economy of Spanish speaking countries like Brazil, Spain and Mexico have been growing at a fascinating speed and have become the Frontier of online fashion business. "Putting Spanish speaking countries on our marketing map is the key to the globalization of our Brand in the world of online business" says the CEO of OASAP, Mr. Moore.
OASAP's main products are women's apparel, hundreds of latest trending products are being put on shelves everyday, for example, Colorful Hearts dulce impresión horrible Cuff manga corta de gasa T -shirt, Vestido atractivo del leopardo, now there are over 15000 products online for customers to choose from, most popular being Pecho Pocket manga larga blusa de la gasa ,Elegant Lace Ocho capas embellecido Shorts .
About OASAP
OASAP is a global online store dedicated to high-street fashion by offering various kinds of women's apparel, bags, shoes, jewellery  accessories, beauty products, etc. 
OASAP was founded in late 2011, and has already grown to be the leader of high fashion online stores. We keep updating products at a high rate every day. Now we update more than 300 new products each week. The products mentioned before definitely belong to the latest fashion trend.
OASAP has now extended their service to UK, Germany, France, Italy, Austria, Switzerland, the Netherlands, Belgium, US, Australia, Norway and etc.