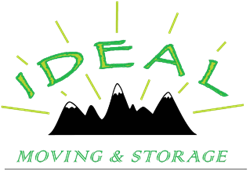 This is one of our biggest sales of the year!
Denver, CO (PRWEB) May 28, 2015
Ideal Moving and Storage announces a best Denver movers relocation sales promo for several of their specialized services. Finding reputable moving companies in Denver can be a daunting task that may require a lot of research. Fortunately this local moving company has excellent credentials, references and cheap prices that may make the choice a lot easier for consumers.
For this limited time offer, customers can get a three man moving crew for the price of two. In addition clients that spend $250.00 in packing materials receive two hours of professional packing services at no charge. Moving can be somewhat stressful and cost a decent amount of money. The larger the home or business, the more the costs and expenses add up. One of the main goals of this special is to help customers find a reputable moving company that's also reasonably priced.
Getting a good price is only a so important. That's why this organization strives to offer an overall good value for their services, without cutting corners on quality. Receiving great customer service that's reliable is essential when planning a move or storing belongings. The company prides itself on their excellent BBB rating and offers personalized service to each and every client. Knowing they're trustworthy and dependable can be priceless when going through the typically stressful process of moving.
Ideal Moving is fully insured and has a location conveniently situated slightly north of Denver in Commerce City. Their facility has a large secure indoor storage space that has video and alarm monitoring twenty four hours a day. Furthermore clients can select private wooden storage crates as well for temporary or long term storage.
Their staff is incredibly friendly and always willing to go the extra mile. Finding a Denver mover that will wrap up valuable possessions, box and crate efficiently can save a lot of time, money and headache. Their trained professionals know how to expertly pack trucks, boxes and storage, which can cut down trip costs and space needed. They offer small to large storage units for short term and long rental agreements.
Those preparing or planning for a move in the Denver Colorado metro area can click here to get several valuable tips on moving. The advice ranges from presorting out items that aren't wanted, to doing a simple inventory of belongings. Doing the right things before and during a move can save countless hours of time and frustration. This organization is dedicated to making the process as simple, affordable and painless as possible to help ensure a successful transition for their clients.
With this special moving sales promotion, clients can get easy and inexpensive all with one simple solution. Please visit http://www.professionalmoversdenver.com for more information or call the number located herein.
Contact Information:
Matthew Oliver
720-638-9870
info(at)idealmovingandstorage(dot)com
5750 E. 58th Ave Unit G
Commerce City, CO 80022