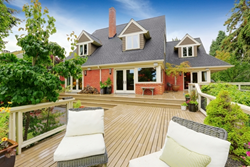 With low interest rates and job growth, more buyers will be encouraged to enter the market
Chicago, IL (PRWEB) May 28, 2015
Although existing-home sales in April decreased, year-over-year sales figures remain positive, The Federal Savings Bank was intrigued to hear that the housing is stabilizing, according to the National Association of Realtors on May 21st. For the second consecutive month, existing-home sales surpassed the 5 million seasonally adjusted annual rate mark. There were also seven straight months of year-to-year increases. While housing sales may have slowed because of lack of inventory, improving housing affordability and new inventory may help lift up sales.
Compared to the previous month, April sales decreased 3.3 percent to reach 5.04 million. Although NAR Chief Economist Lawrence Yun acknowledged this slight set back, he remained optimistic about future growth.
Supply of new homes grows in April
While tight inventory continues to be a problem in the housing market, potentially leading to higher home prices, according to Yun, supply of new homes is forecast to expand.
The U.S. Census Bureau and Department of Housing and Urban Development reported on May 21th that single-family housing starts in April surged 16.7 percent from March to reach almost 733,000 total.
Greater starts and completions in the single-family home market should add some much needed inventory that may alleviate the pressure in the home price environment. Housing completions in April rose to a seasonally adjusted rate of 986,000, growing 20.4 percent from the previous month.
Analysts predict the housing market will return to normal because of increased building activity, as reported by the The Wall Street Journal on May 26th in a release titled "U.S. New-Home Sales, Prices Climb". In the previous year, purchases of new homes alone climbed 26.1 percent.
With the steady pace of new home sales exhibited for much of the first half of the year, economists expect housing sales to stabilize.
"The fact that new home sales have exceeded 500,000 in three of the four months so far this year is an encouraging sign that we are moving closer to 'normal,'" Stephen Stanley, chief economist at Amherst Pierpont Securities, said in a client note.
Economic gains lead to greater housing affordability
In addition to higher inventory, another factor that should help boost sales is the ability for buyers to secure a low rate mortgage. Yun noted, and The Federal Savings Bank agrees, that buyers are entering the market more frequently because of economic growth.
Although prices are increasing due to demand for a smaller amount of inventory, buyers are seeing their incomes also increase, Yun said.
"However, the overall data and feedback we're hearing from Realtors continues to point to elevated levels of buying interest compared to a year ago," Yun said in a statement. "With low interest rates and job growth, more buyers will be encouraged to enter the market unless prices accelerate even higher in relation to incomes."
The Federal Savings Bank thinks that the expansion in the economy and wages will likely help first-time home buyers and other house hunters achieve their goals of owning a home. By applying for a low rate mortgage now before interest rates rise, applicants are more likely to get the home they want at the price that will be manageable.
First-time home buyers can contact the Federal Savings Bank, a veteran owned bank, to learn more about applying for a low rate mortgage.