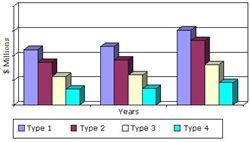 The global market for water and infrastructure repair market is expected to reach $82.2 billion in 2019
Wellesley, Mass. (PRWEB) May 28, 2015
The growing global population should sustain robust growth in the water and infrastructure technology repair (WIRT) market. BCC Research reveals in its new report the market should reach $82.1 billion in 2019, up from $57.7 billion in 2013 and $61.2 billion in 2014. The report projects a five-year compound annual growth rate of (CAGR) of 6.1% from 2014 through 2019, reflecting a 42.3% market gain during the period.
The global WIRT market is thriving and evolving. Some of the key factors spurring market growth include an increasing need for water infrastructure repair, global and regional population growth, improved drinking water distribution, continuing monetary support for WIRT projects in developing countries, and proven new technologies. Other drivers include newly constructed water distribution and wastewater collection systems, diminishing water supplies, and regional droughts.
Globally, populations are shifting from rural to urban regions, which is increasingly burdening city infrastructure systems. Water piping systems are no exception. Larger, older cities with rapid population growth are susceptible to water infrastructure issues because their systems tend to be aged and stressed.
"The population of the world has been growing at an average annual rate of close to 1.6% from 1950 to 2014," explains BCC Research analyst Nana Lapham. "Along with population growth comes an increased demand for water, water distribution, wastewater collection and subsequently a greater need for WIRT."
Water Infrastructure Repair Technologies: Global Markets (ENV027A) discusses water infrastructure repair technologies used in drinking water distribution and wastewater collection (including sewer and stormwater) piped infrastructure systems around the world. The report provides WIRT market data in dollar value for 2013 and 2014, and projections through 2019.
Editors and reporters who wish to speak with the analyst should contact Steven Cumming at steven.cumming(at)bccresearch(dot)com.
About BCC Research
BCC Research publishes market research reports that make organizations worldwide more profitable with intelligence that drives smart business decisions. These reports cover today's major industrial and technology sectors, including emerging markets. For more than 40 years we've helped customers identify new market opportunities with accurate and reliable data and insight, including market sizing, forecasting, industry overviews, and identification of significant trends and key market participants. We partner with analysts who are experts in specific areas of industry and technology, providing unbiased measurements and assessments of global markets. Recently selected as the world's greatest market research company, BCC Research is a unit of Eli Global, LLC. Visit our website at http://www.bccresearch.com. Contact us: (+1) 781-489-7301 (U.S. Eastern Time), or email information(at)bccresearch(dot)com.