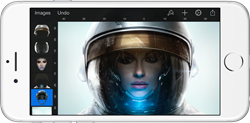 We are super excited to introduce a world class, advanced image editor for iPhone.
LONDON, UK (PRWEB) May 28, 2015
Pixelmator for iPhone is packed with powerful, fast, desktop-class tools for enhancing photos, drawing and painting, as well as for advanced image editing with layers, text, shapes, and more. Pixelmator is built exclusively for iOS 8 and takes full advantage of its latest features and technologies, making Pixelmator fast, intuitive, and very simple for anyone to use.
"We are super excited to introduce a world class, advanced image editor for iPhone," said Saulius Dailide, one of the founders of the Pixelmator Team. "Our team created the first-ever mobile image editor that has all the tools you need whether you are a mobile photographer, mobile painter or a mobile graphic designer."
Pixelmator is the perfect app for mobile photographers. It is packed with advanced, desktop-class photo editing tools that let you touch up and enhance photos right on your iPhone. Pixelmator features powerful Color Adjustment tools, incredibly precise Retouching tools, Metal-based Distort tools, a collection of breathtaking effects, and much more.
Pixelmator is perfect for mobile painters, too. It features more than 100 outstanding double-texture brushes, innovative color-picking tools, and an impressive, OpenGL ES- and A8X-based Paint Engine. Mobile painters can choose from realistic to fully stylized brushes of all sizes and shapes to subtly enhance images or to create masterpieces from scratch. Pixelmator also provides myriad ways to pick colors easily and with great precision. And it lets you enjoy real-time responsive painting, thanks to the state-of-the-art Paint Engine. Now you can paint absolutely seamlessly whenever your imagination strikes.
Pixelmator for iPhone is the best-in-class app for mobile graphic designers. It is one of the most powerful layer-based graphic design apps for iOS, that lets you combine words, shapes, and images to create stunning compositions right on your iPhone. You can use pixel-accurate selection tools to select and edit areas of an image. Follow the smart alignment guides to perfect image composition. Merge and organize image layers, apply Layer Styles, and Blending modes. And so much more.
Pixelmator takes full advantage of powerful iOS features and technologies. It also delivers a native iOS 8 user experience, making the most advanced editing tools intuitive and easy to use. In addition to features such as iCloud Drive, Handoff, Document Picker, and the Photos app editing extension, Pixelmator for iPhone is engineered to leverage the full power of 64-bit architecture, Grand Central Dispatch, NEON, OpenGL ES, Core Image, and Metal, delivering state-of-the-art performance and incredible responsiveness.
Pricing & Availability
Pixelmator for iPhone is available from the App Store for $4.99 at http://appstore.com/pixelmator
Pixelmator for iPhone is a universal app. All Pixelmator for iPad owners will get Pixelmator for iPhone.
More information about Pixelmator for iPhone can be found at http://www.pixelmator.com/iphone
An Overview video is available at http://bit.ly/1SAcCcx
About the Pixelmator Team
Founded in 2007 by two brothers, the Pixelmator Team develops Pixelmator for Mac—a full-featured image editing app for Mac—and Pixelmator for iOS—the world's most advanced image editing app for iPad and iPhone. Pixelmator's Mac and iPad apps have been honored with numerous awards, including Mac App Store's App of the Year 2011, App Store's iPad App of the Year 2014, and many more. Pixelmator for iPad was featured in the Apple Special Event in October 2014.