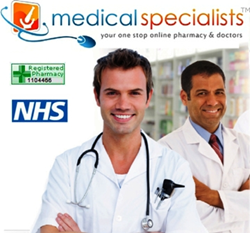 For WNTD, all smokers around the world are encouraged to abstain from all types of tobacco consumption on 31 May for a 24-hour period.
(PRWEB UK) 28 May 2015
Medical Specialists® Pharmacy are proud to support the annual global public health campaign World No Tobacco Day (WNTD), a day which is dedicated to highlighting the detrimental impact of tobacco and smoking.
For many years, Medical Specialists® have seen thousands of smokers come to them requesting the popular smoking cessation treatment Champix, in addition to other prescription medication related to the side effects of smoking – i.e. anti-ageing treatment.
It gets worse…smoking is also one of the leading causes of gum disease as it creates more plaque, but the risk can be lessened significantly by stopping smoking, and treatment with antibiotics, such as metronidazole or amoxicillin, could be recommended for certain types of gum disease – i.e. Acute necrotising ulcerative gingivitis. Other dental problems widely associated with smoking include bad breath, tooth discolouration and even loss of bone within the jaw.
Therefore, the online pharmacy is fully supportive of anti-smoking campaigns such as WNTD and the British Heart Foundation-led No Smoking Day, which occurred on 11 March this year.
On 31 May each year, The World Health Organization (WHO) and affiliated partners mark WNTD by raising the multiple serious health risks linked to tobacco use, in addition to campaigning for the introduction of more efficient policies that will help to decrease worldwide tobacco consumption. For WNTD, all smokers around the world are encouraged to abstain from all types of tobacco consumption on 31 May for a 24-hour period.
Every year a different theme is chosen for WNTD to help generate a better global impact that almost everybody can relate to. Then, for the following twelve months, that particular theme comprises of the primary focus of WHO's tobacco-related actions.
For World No Tobacco Day 2015, WHO are urging countries to join forces to help put an end to the increasing problem of illicit trading of tobacco products. Illegal trading of tobacco products is a serious worldwide problem that has major repercussions for society, stretching to health, legal and economic, governance and corruption.
To help understand exactly what the illicit cigarette trade is, or what falls foul of this, it is defined as "the production, import, export, purchase, sale, or possession of tobacco goods which fail to comply with legislation" (FATF 2012).
Generally, activities that are classed as illicit trading of tobacco products, and risk severe punishment, fall into three main categories:
. Contraband: Cigarettes smuggled into the country from overseas without any duty being paid.
. Counterfeit: Cigarettes produced without authorisation given by the rightful owners, in an attempt to deceive consumers and avoid paying for duty.
. Illicit whites: Brands that have been legitimately manufactured within one particular country, but smuggled and sold in a different country, with no duty being paid.
According to WHO, one in every 10 cigarettes, in addition to various other tobacco-based products used globally, are illegal, meaning the illicit trade of tobacco is a huge issue that needs tackling before it spirals to an even worse level.
The European Commission has estimated illicit trading in cigarettes costs the EU and their Member States over €10 billion annually in lost tax and customs revenue, and that roughly 65% of the cigarettes seized in the EU are discovered to be counterfeit.
Moreover, a recent study published in 2012 showed that illicit cigarette consumption across the EU has soared by 30% during the last six years, and was found to be 11.1% of total consumption in 2012, so there is a chance this rate could be higher presently.
This is why WNTD and other such anti-smoking events are imperative. WHO's website states that Goals of the WNTD 2015 campaign are:

Raise awareness on the harm to people's health caused by the illicit trade in tobacco products, especially the youth and low-income groups, due to the increased accessibility and affordability of these products due to their lower costs.
Show how health care gains and programmes, tobacco control policies, like increased tax and prices, pictorial health warnings and other measures are undermined by the illicit trade in tobacco products.
Demonstrate how the tobacco industry has been involved in the illicit trade of tobacco products.
Highlight how the illicit trade of tobacco products is a means of amassing great wealth for criminal groups to finance other organised crime activities, including drugs, human and arms trafficking, as well as terrorism.
Promote the ratification of, accession to and use of the Protocol to Eliminate Illicit Trade in Tobacco Products by all Parties to the WHO Framework Convention on Tobacco Control (WHO FCTC) and its early entry into force through the active involvement of all relevant stakeholders.
For those who would like more information about WNTD, including the major effects that illegal tobacco trading has on the wider society, and what people can do about the situation, WHO have created a fantastic online brochure titled 'Illegal trade of tobacco products: What you should know to stop it'.
Medical Specialists® Pharmacy hope smokers all around the globe are able to abstain from smoking on 31 May, and wish everybody the best of luck. For longer-term quitting – as mentioned previously – the pharmacy is able to provide the smoking cessation treatment Champix for suitable patients. This treatment can be obtained by an online consultation with one of the Medical Specialists® GMC-registered doctors, by sending the pharmacy a private prescription.